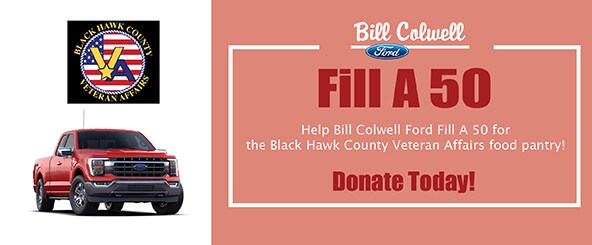 To honor and support our local military veterans, Bill Colwell Ford will be spending the month of April collecting items on behalf of the Black Hawk County Veteran Affairs to distribute to veterans and families through their food pantry. Bill Colwell Ford is asking the Cedar Valley community to bring in items to help them fill the bed of an F-150, or Fill a 50 any time in April. For each item donated, you can register in a drawing for a chance to win a free auto detail or oil change at Bill Colwell Ford. 
The goal of this item drive is to send basic necessities to the Black Hawk County Veteran Affairs office for their food pantry that assists veterans who need help getting food and other household supplies.
Below are some of the items needed for the Veteran Affairs Food Pantry:
Nonperishable food items (including healthy canned fruits and vegetables, soups, and boxed meals)
Laundry detergent
Paper towels
Toilet paper
Socks (new)
Stocking hats (new

)

Winter gloves (new

)
**We're also accepting monetary donations. Any funds will be used to buy additional items to be delivered with the other donations. 
Simply drop off these items in our showroom and enter the drawing for a FREE detail or oil change! T
he winner will be announced May 4.