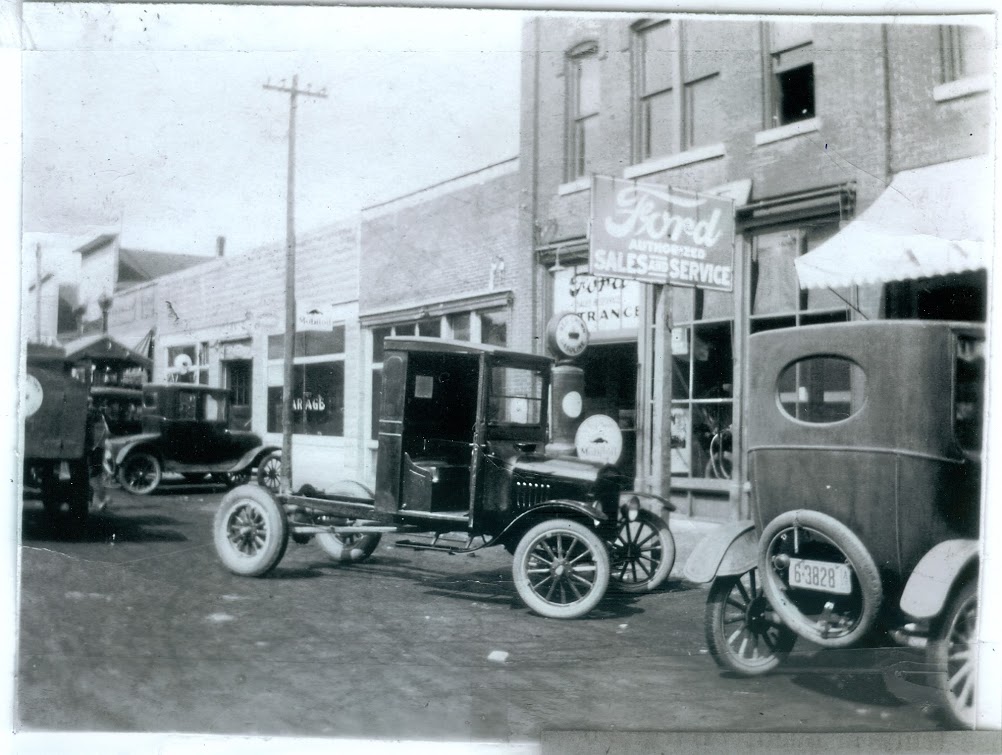 1900s - Ford Franchise in downtown Hudson. It is said that this may have been one of the first Ford Franchises in Iowa.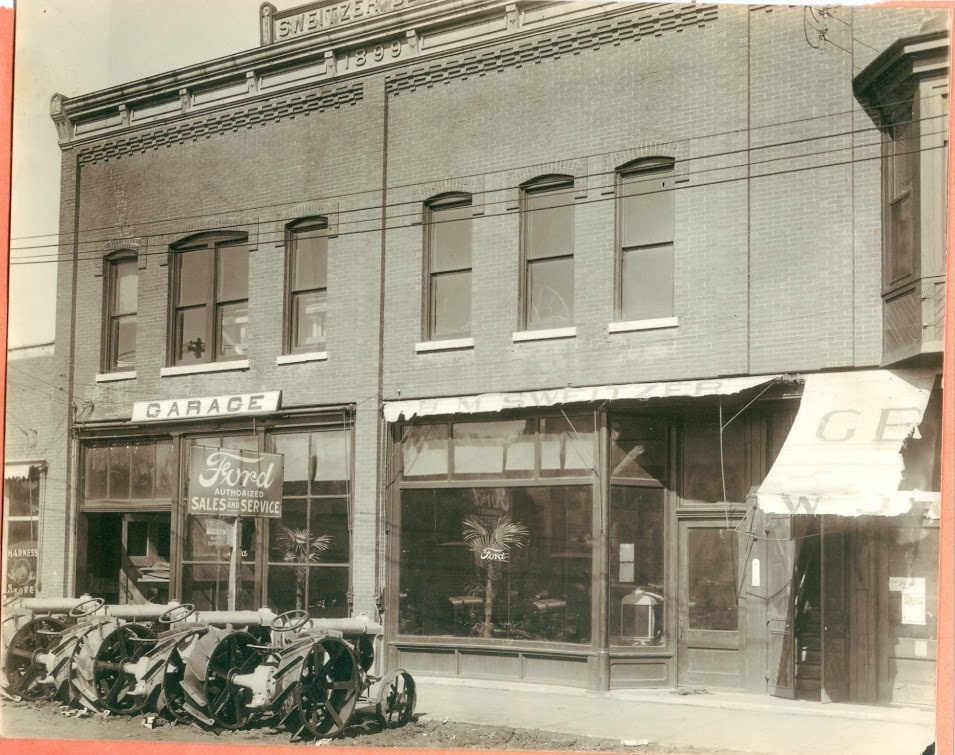 1930s - Ford Tractors for sale at the Ford Dealership. Ford Motor Company manufactured its first tractor in 1921 using parts from the Ford Model B and Model K.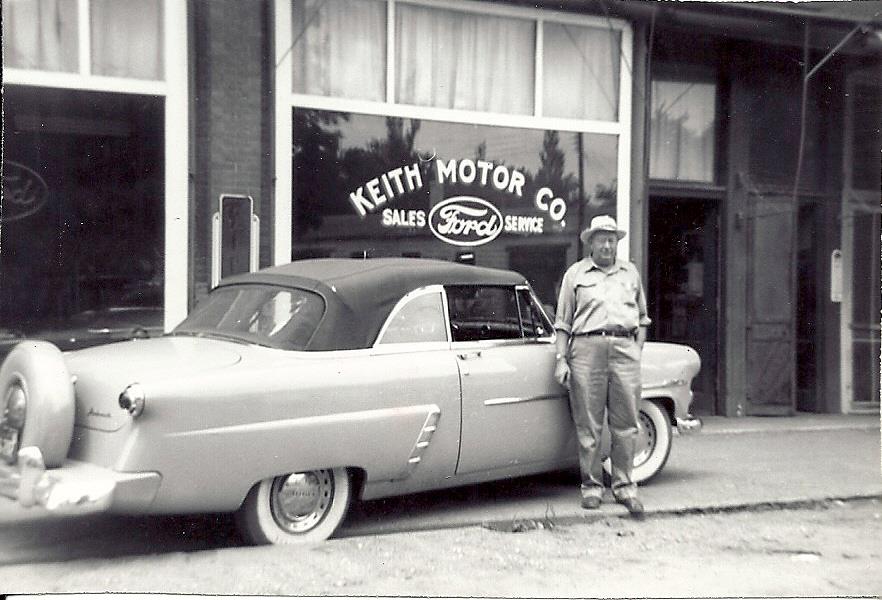 1951 - The Keith Family takes over the Ford franchise.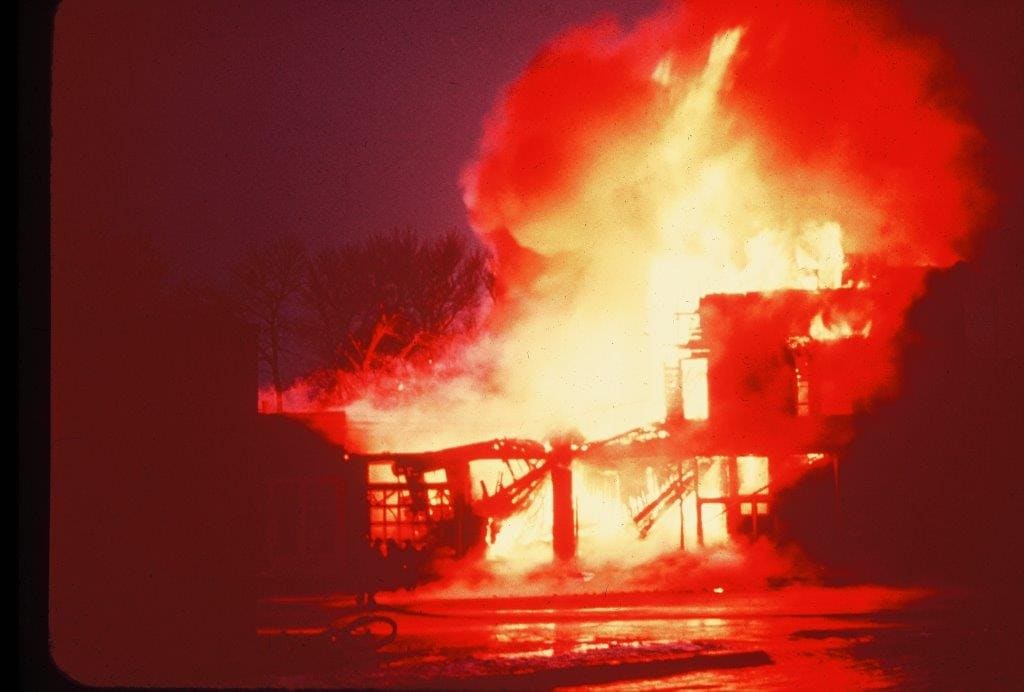 1959 - A fire destroys the downtown building in November.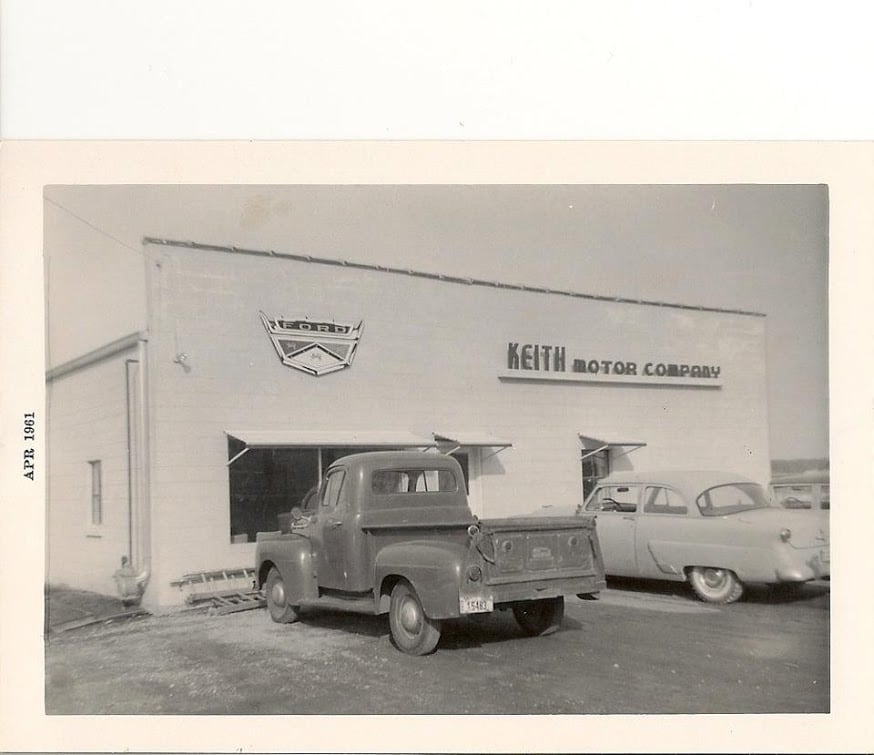 1960 - The Keith Family constructs a new building out by the highway in September.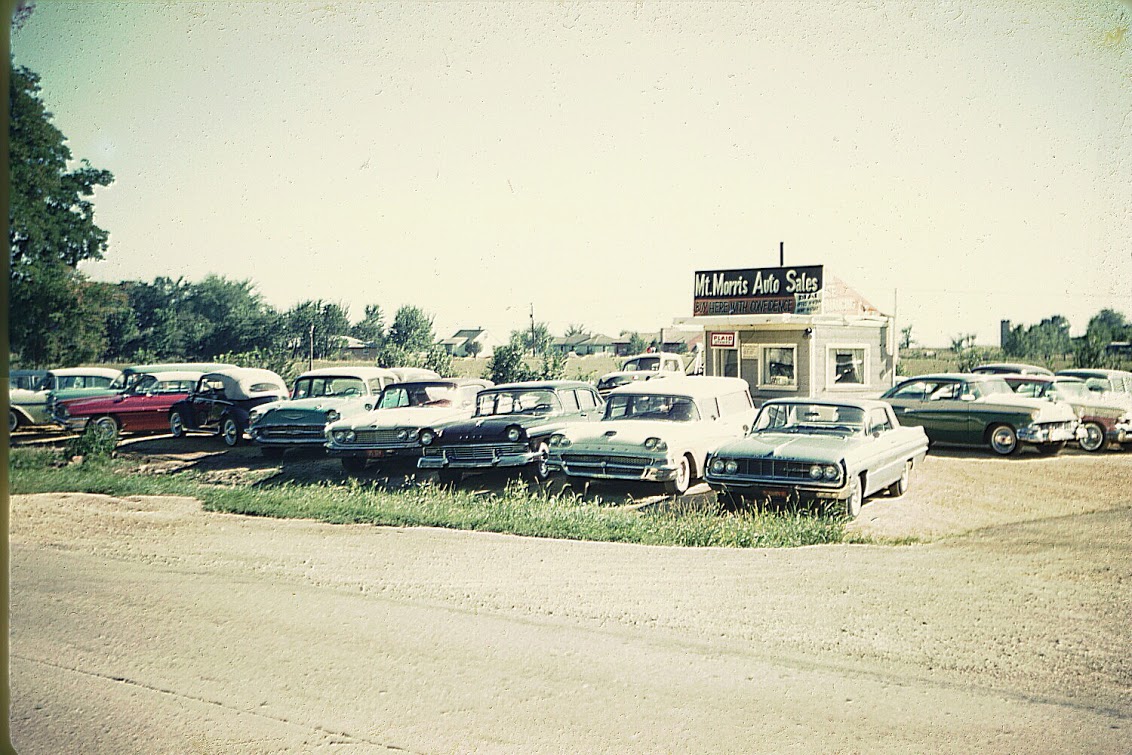 1960 - Bill Colwell Senior opens his first used car store in Mt. Morris, IL.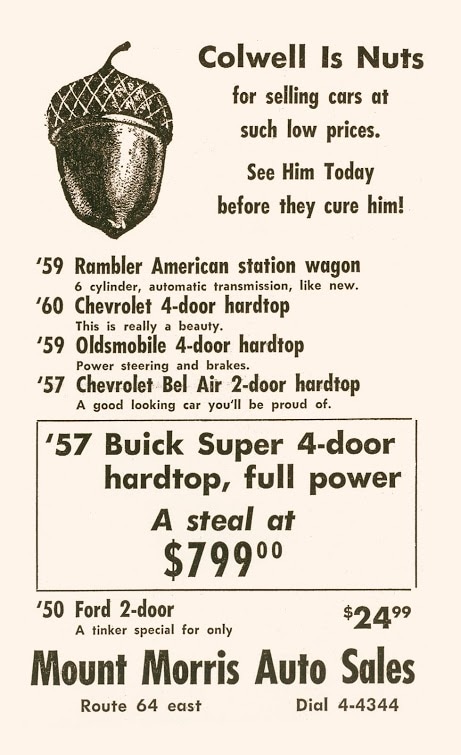 1961 - Early advertisement - Colwell is Nuts!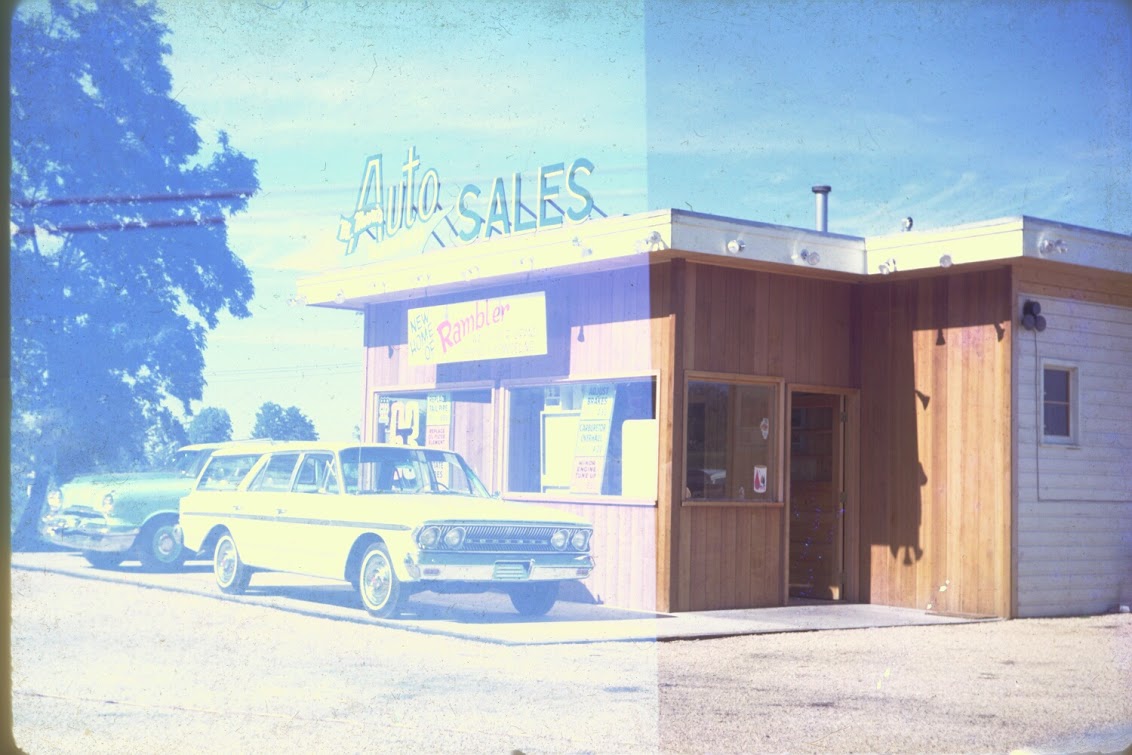 1961 - New Rambler franchise awarded to Bill Colwell Senior in Mt. Morris, IL.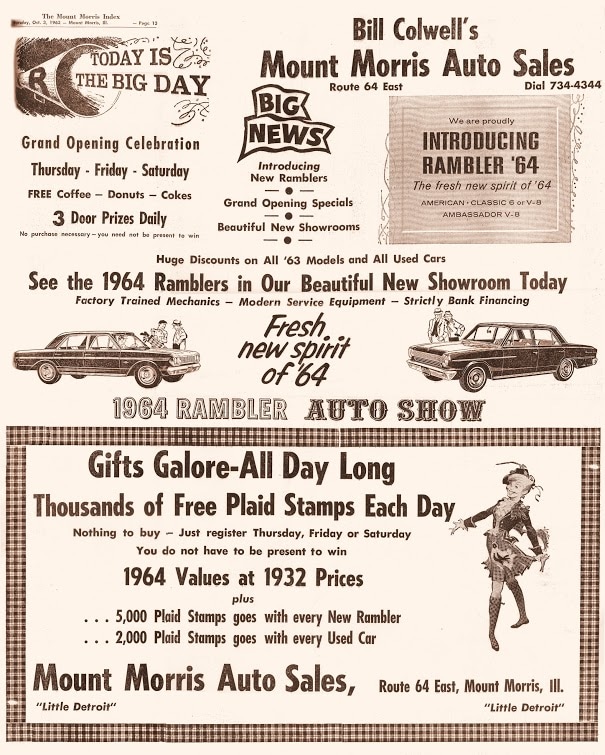 1963 - Early  advertisement - Rambler announcement.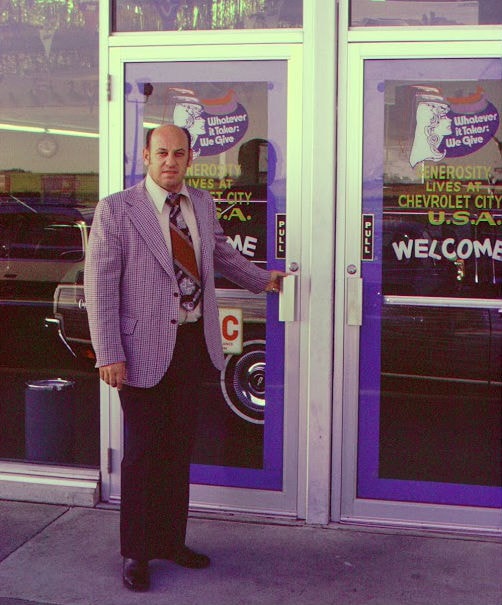 Early 1970s - Bill Colwell Sr. as General Manager at Schukei Chevrolet in Waterloo.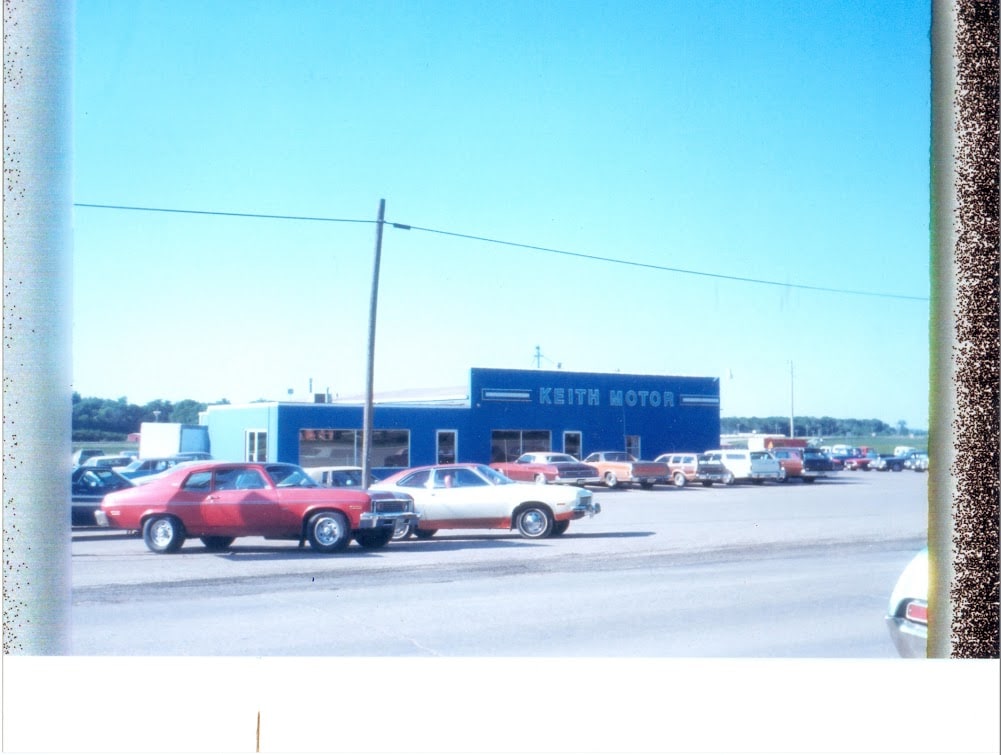 1970s - Keith Motor Company adds addition.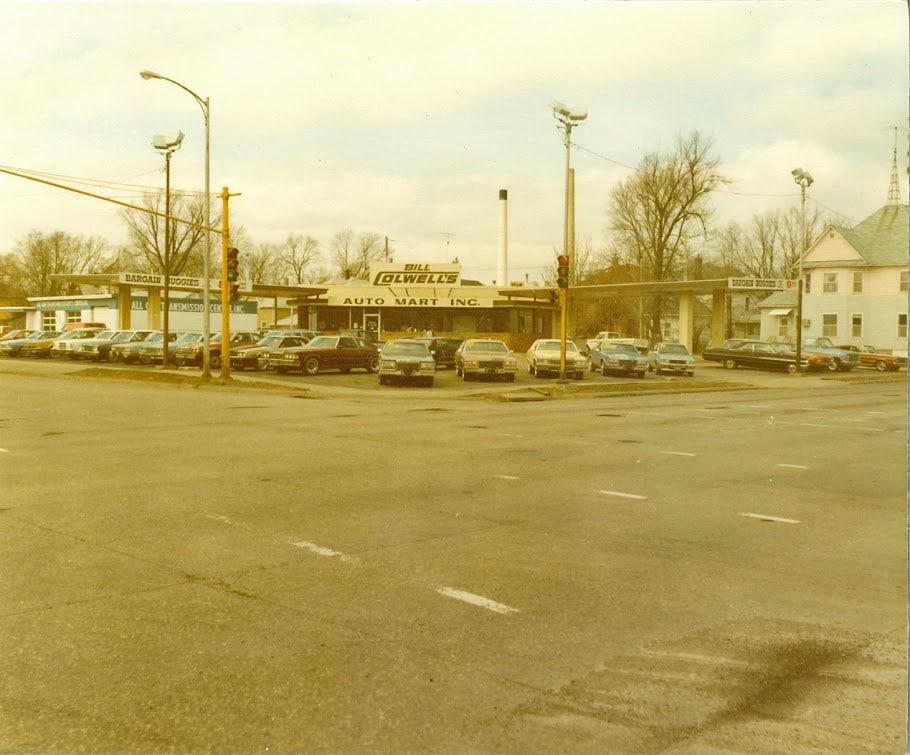 1975 - Bill Colwell's Auto Mart established by Bill Colwell Sr. and Bill Colwell Jr. in Waterloo.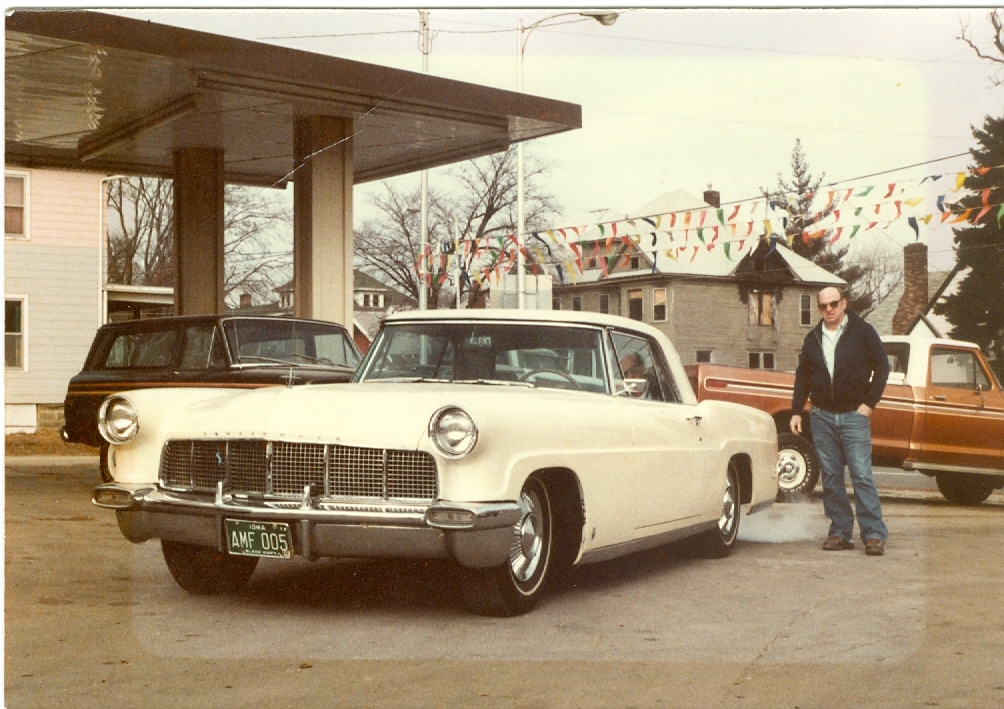 Early 1980s - Bill Colwell Sr. with a '56 Lincoln at Bill Colwell Auto Mart.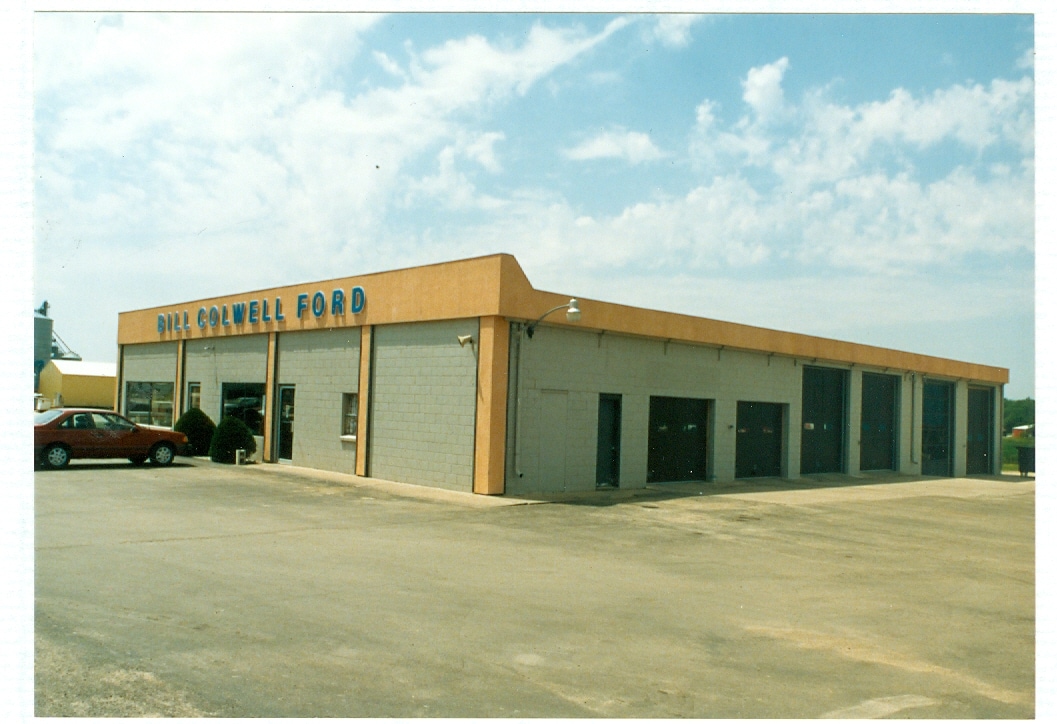 1984 - Bill Colwell purchases the franchise from the Keith family.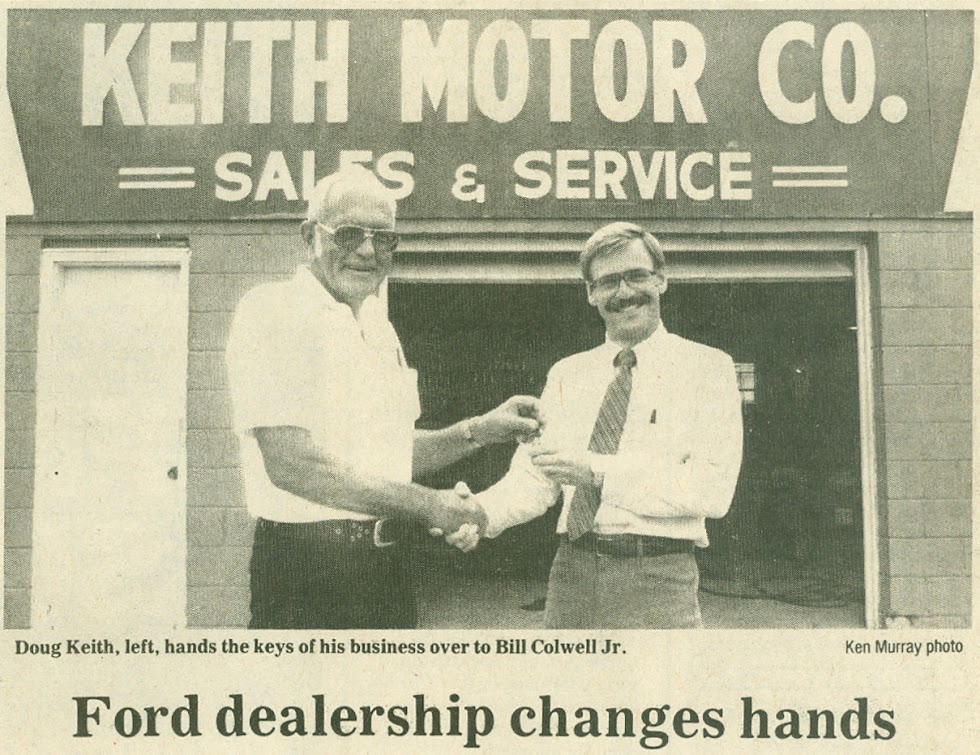 1984 - Doug Keith transfers ownership of Hudson dealership to Bill Colwell Jr. in July.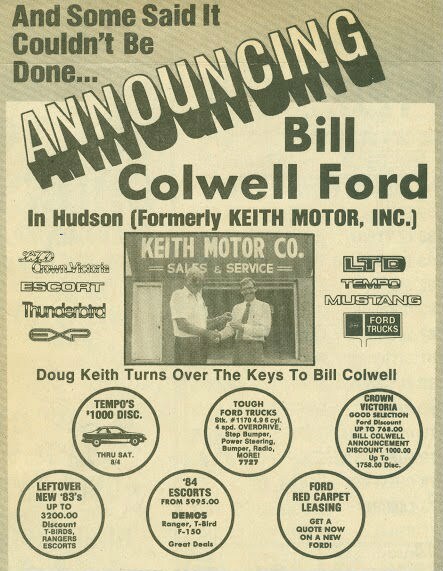 1984 - Grand Opening advertisement in October.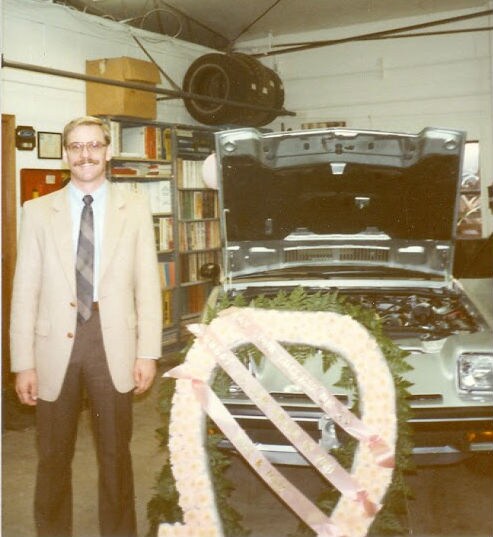 1984 - Bill Colwell at the Grand Opening event in October.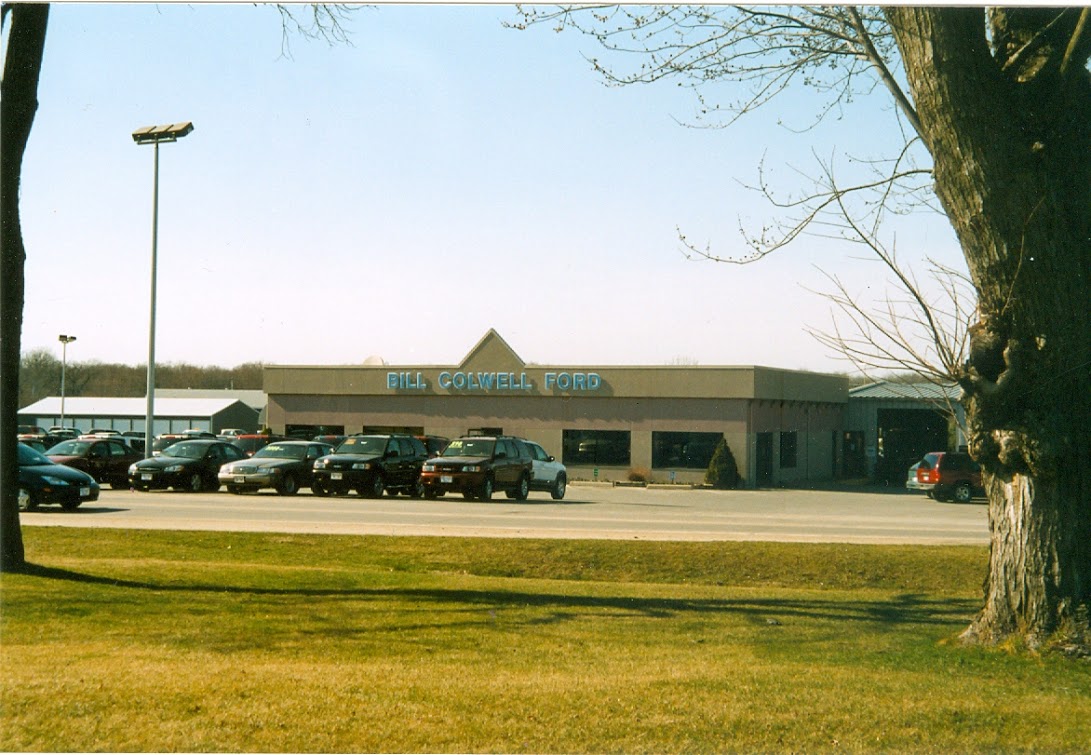 1989 - Bill Colwell Ford after major renovation, doubling the size of the facility.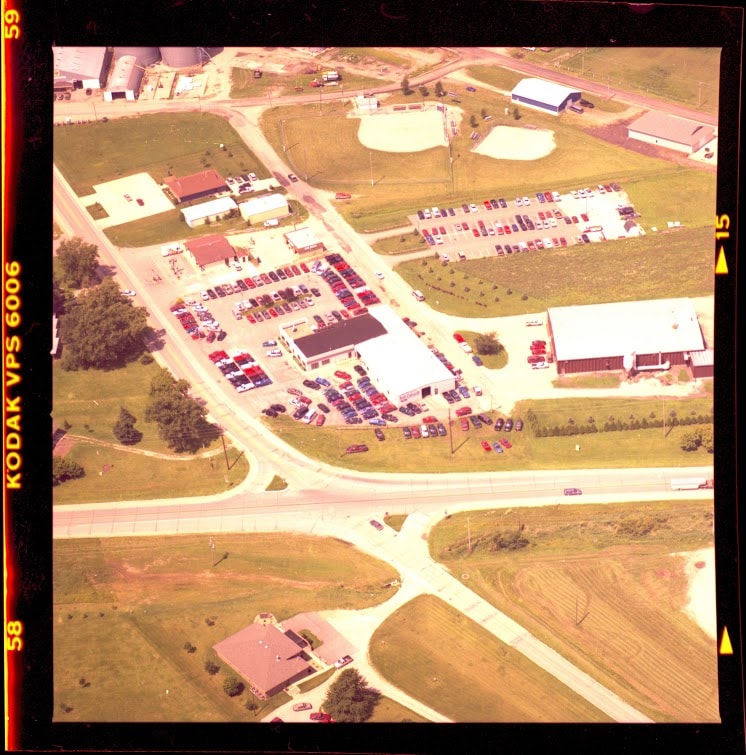 1990 - Aerial view of Bill Colwell Ford.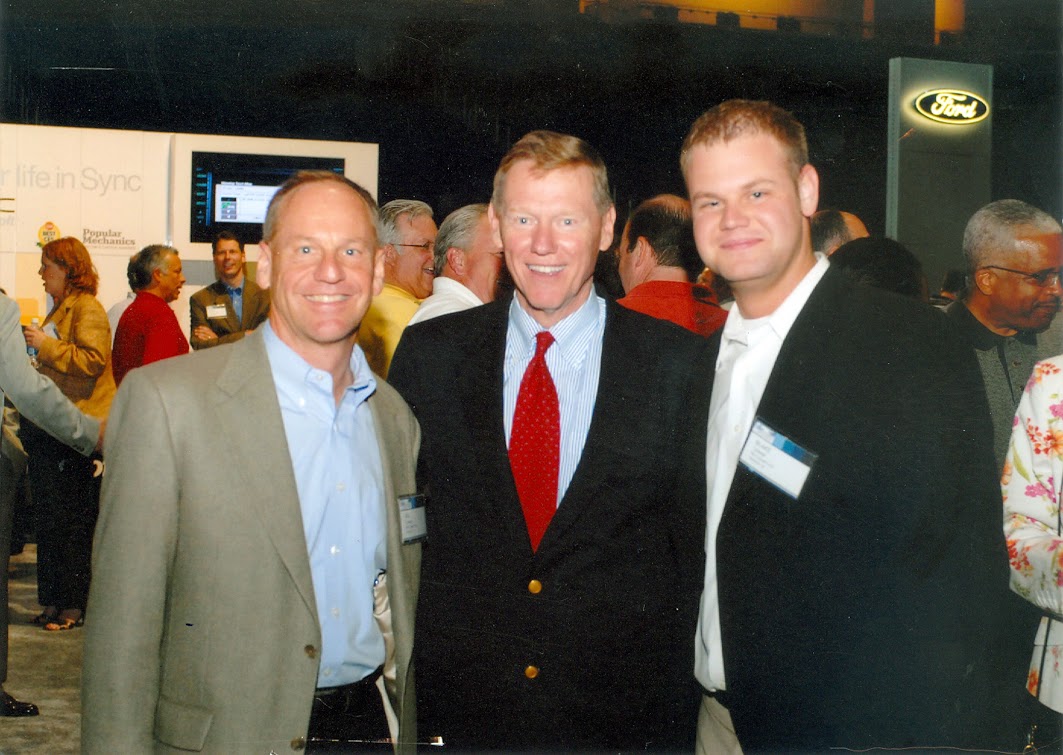 2007 - Blake Colwell joins Bill in the business.  Shown here with Alan Mulally, former President & CEO of Ford Motors Co.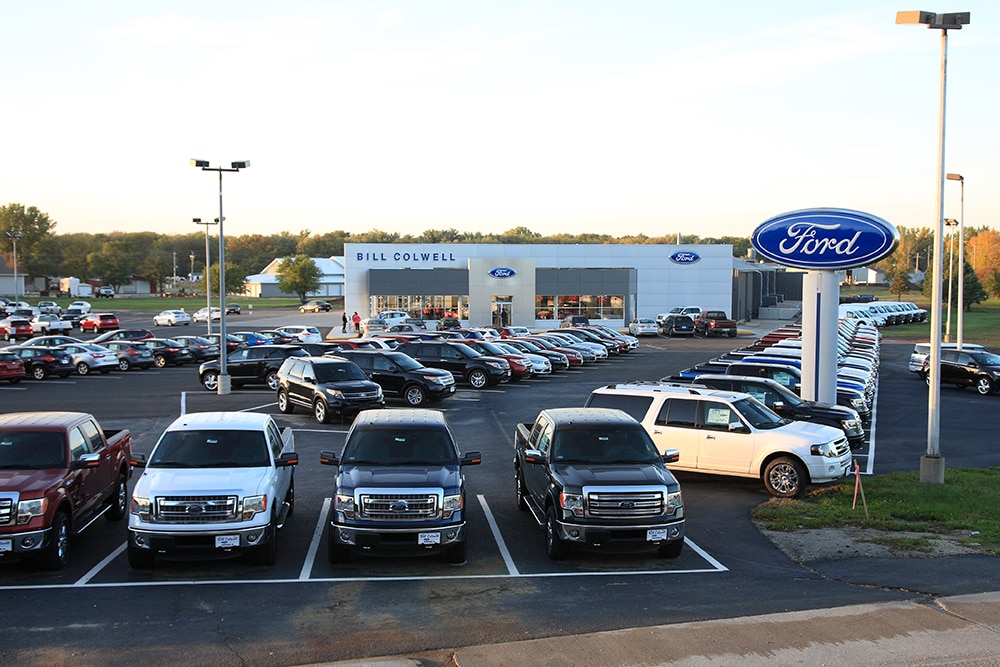 2013 - New building constructed and previous dealership building was removed. A Grand Reopening was held in October.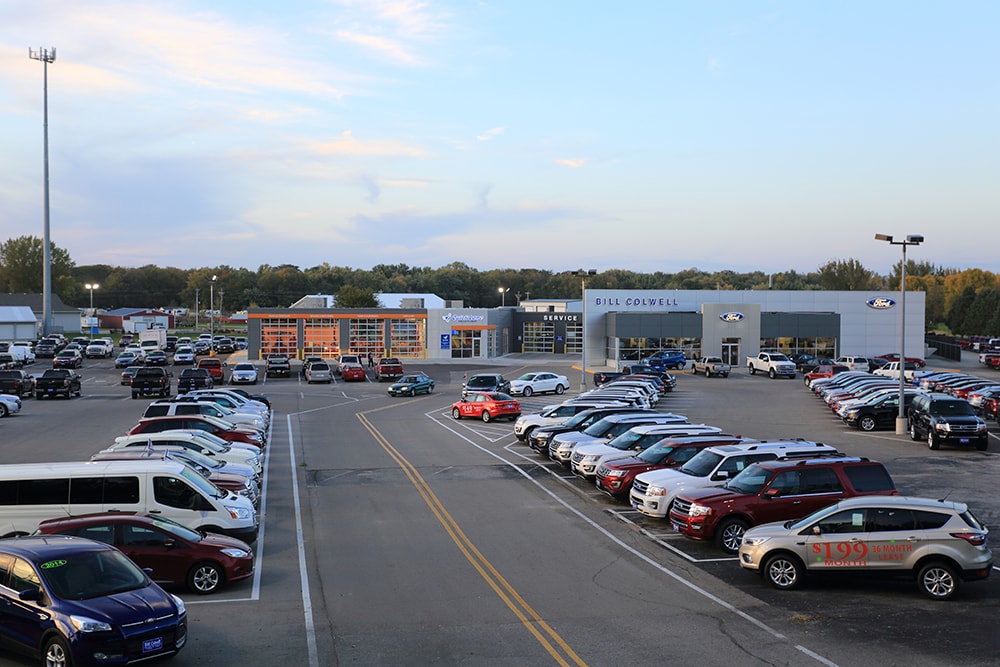 2016 - Quick Lane Tire & Auto Center was added in June.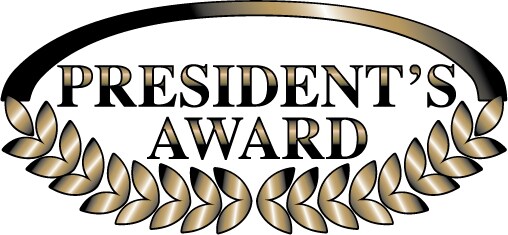 Bill Colwell Ford receives the Presidents Award from the Ford Motor Company. The award recognizes dealers for excellence in providing outstanding customer service and satisfaction. Bill Colwell Ford won the President's Award in 1999, 2009, and 2011
---
2013 - Bill knew that at some point he would need to expand the business in order to accommodate the growth the company had seen.  When the building and land that was directly behind the building became available, Bill saw an opportunity and purchased what had previously been Kerry Ingredients.  In 2012, the renovation process began.  A new, spacious showroom was added to the front of the old building allowing for more desks for sales staff and showroom floor to showcase more vehicles.  The previous building was converted into office space, a comfortable service lounge, and a state-of-the-art service department. However, once the new building was completed in July, the process of removing the previous dealership began. Finally, in October of 2013, the journey came to an end and the Grand Re-Opening of Bill Colwell Ford was held.