Find out if you're eligible for the Ford X-Plan Pricing Discount near Waterloo, Iowa here at Bill Colwell Ford!
What is Ford X-Plan Partners?
X-Plan is new Ford pricing that is offered to select employees of preferred (invitation only) business partners of the Ford Motor Company. X-Plan pricing is valid towards the purchase or lease of most new Ford vehicles, both passenger and commercial.
Who qualifies for Ford X-Plan?
Generally, employees (full time, part-time and contract), spouses and retirees of eligible Partner companies (suppliers, fleets, etc.) and members of specific organizations or groups may qualify for X-Plan. Residents of the same household as qualified employee are also eligible with proper proof of residency. Participation in this program is by invitation only as determined by Ford Motor Company. Not all suppliers, fleets, etc. are eligible. If you are unsure of whether you qualify or not, read on.
Basically, who you work for may entitle you to use a special partnered program pricing on a new Ford lease or purchase from us. (It's that simple.) 
What companies get X-Plan pricing?
Currently, there are nearly 3,400 partner companies that qualify for employee X-Plan pricing. This list is constantly changing based on new and dissolved relationships between Ford Motor Company and their partners. Because of the changing nature of these relationships, there is no central list that you can access to check your eligibility, so it is best to contact our Ford dealer serving Cedar Falls, Waterloo, Hudson, and all surrounding areas to check for you. At Bill Colwell Ford, we often assist employees of the following companies (currently or previously eligible) with X-Plan pricing: Alliant Energy, Best Buy, ConAgra Foods, FedEx, General Mills, Home Depot, John Deere, Lowe's, Menard's, MidAmerican Energy, Northern Natural,  Tyson Foods, Wal-Mart Stores, and many other large local and regional employers.
If you aren't sure if your company qualifies, your HR benefits coordinator may also have some information on this program, and you can always give us a call here at our Hudson Ford dealer, or complete the form below.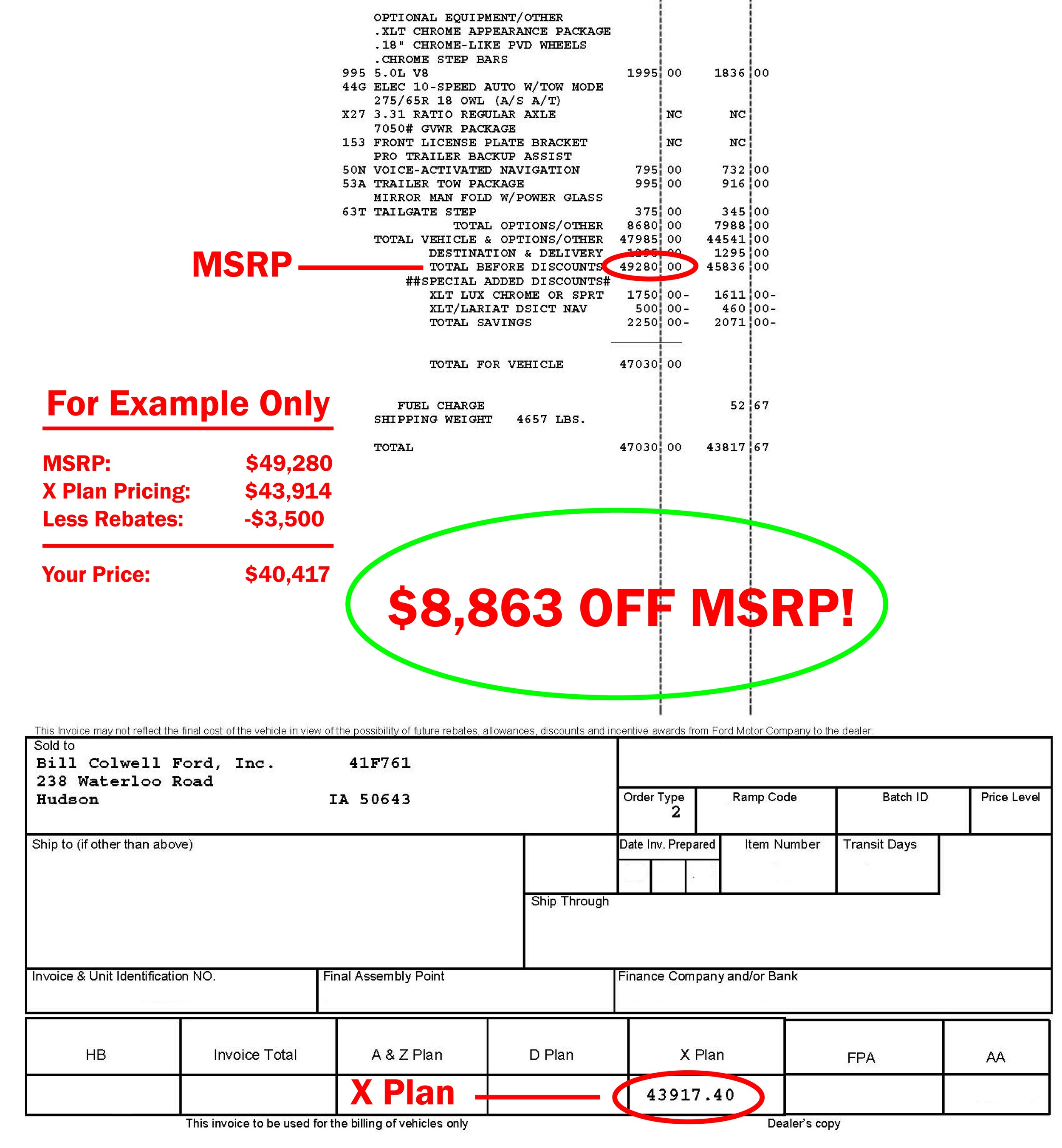 Make an Inquiry
* Indicates a required field
How much is X-Plan going to save me on a new vehicle purchase?
X-Plan savings vary from vehicle to vehicle, however they generally remain constant as percentage of the vehicle cost. To help illustrate this point, let's take a look at an example. Below is an image that shows the dealer invoice for a Ford F-150. Because X-Plan buyers often qualify for rebates in addition to their X-Plan pricing, we have included rebates in our example for this truck. With the application of rebates, this particular example saved over $8,000 off MSRP. To be transparent, due to the high level of rebates and the discount package on the MSRP, this is one of the better savings available through X-Plan. However, on average, X-Plan buyers will receive significant savings from MSRP.
How do I receive X-Plan Pricing?
To take advantage of the program, you will need an X-Plan personal identification number (PIN). Don't worry though, we don't require you to have this when shopping. However, you will need this at the time of purchase. This can often be obtained by asking your Ford Dealer or HR Benefits coordinator for your company's X-Plan Partner Code. Once you have the partner code, your Ford dealer can help you generate your X-Plan PIN. You may qualify for up to two pins per calendar year, with each PIN expiring within 12 months of being issued.
Once you arrive at the dealership, there are no negotiations, as the X-Plan price is clearly marked on the invoice from the manufacturer (see above). After informing your dealer of X-Plan eligibility, ask to see the invoice to verify your pricing. If you want to explore pricing before arriving at the dealership, you can also input your partner code to this website to shop X-Plan vehicles.
Want to know if you might be an eligible X-Plan buyer? Do you have any additional questions? Contact us directly, give us a call, or just fill out the form up top.
Hours
Monday

8:30am-8pm

Tuesday

8:30am-8pm

Wednesday

8:30am-6pm

Thursday

8:30am-8pm

Friday

8:30am-6pm

Saturday

8:30am-5pm

Sunday

Closed