Why The Automotive Service Industry?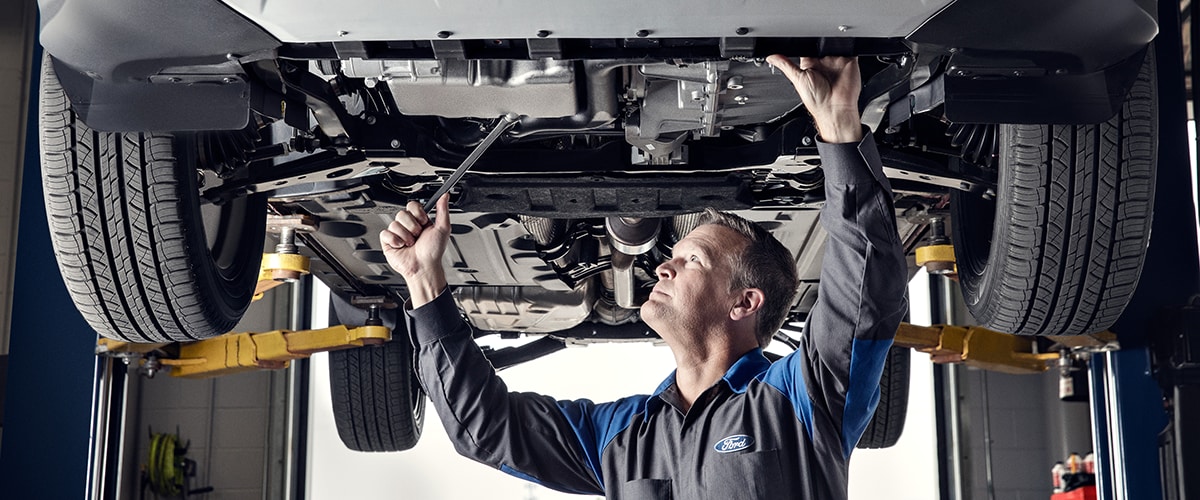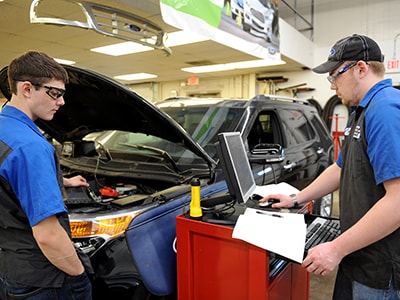 Ford ASSET Program
The Automotive Student Service Educational Training program (ASSET), cosponsored by DMACC and Ford Motor Company, is a two-year automotive program designed to prepare students to be competent and professional entry-level Ford or Lincoln dealership technicians. The curriculum, designed by Ford Motor Company and DMACC, leads to the Associate degree in Automotive Technology and Ford Technician Training Certification. The program involves classroom lecture, laboratory experience and dealership work experience. For more information about the ASSET-Ford program, please visit: www.dmacc.edu/programs/automotive/ford.
Why Bill Colwell Ford?
Bill Colwell Ford is a family owned and operated Ford Dealership located just 10 minutes from Waterloo and Cedar Falls in Hudson, IA. We've been in business for over 30 years now and believe our success can be attributed to our great reputation and our devoted employees. Customer service has always been our top priority which is reinforced with the fact that we've been the recipient of the prestigious Ford President's Award three times. As a customer centric Ford dealership, we are always looking for outstanding candidates to join our team and help take us to that next level. Some of our employee benefits include:
Health Insurance
Paid Holidays
Paid Vacation
Paid Training
Paid Training
401(K) Retirement Plan
Ongoing training and development
New facility with air conditioning
Opportunity
180,000+ vehicles on the road in need of trained technicians
1.2 million+ technician job openings by 2026
Make Money Now & Down the Road
Auto professionals earn competitive salaries, with many entry-levels jobs over $35K. And you can make more than $60,000 per year after gaining some real-world experience. Superstars can make six figures.
Every Day is Different
You'll never sit behind a desk for 8 hours. An automotive career hands you the keys to your future. It also provides stable, long-term employment that allows you to work anywhere in the country or throughout the world.
Technology & the Future
Motorheads are welcome…and so are techies. Electronic diagnostic equipment is as much a part of the industry as a wrench. Technology in cars is changing at a blistering pace every year to include new advances in fuel economy, body materials and infotainment features that consumers demand.
It's an exciting time to be involved in the automotive industry, with manufacturers across the world embracing cutting-edge technology in the quest to deliver driverless and eco-friendly cars. Concepts such as virtual reality and augmented reality are already being rolled out by manufacturers, while active safety systems are playing a huge role in the reduction of the number of accidents on roads.
Did You Know There's More Coding Involved in a New Ford Vehicle Than Google?
Contact us Today!
If you're interested in the automotive industry we encourage you to reach out to us. We offer job shadows and internships in sales, business, marketing, and service. If you want to learn more about the Ford ASSET program we would be happy to meet with you and discuss it more depth. We're here to help!
* Indicates a required field
Hours
Monday

8:30am-8pm

Tuesday

8:30am-8pm

Wednesday

8:30am-6pm

Thursday

8:30am-8pm

Friday

8:30am-6pm

Saturday

8:30am-5pm

Sunday

Closed