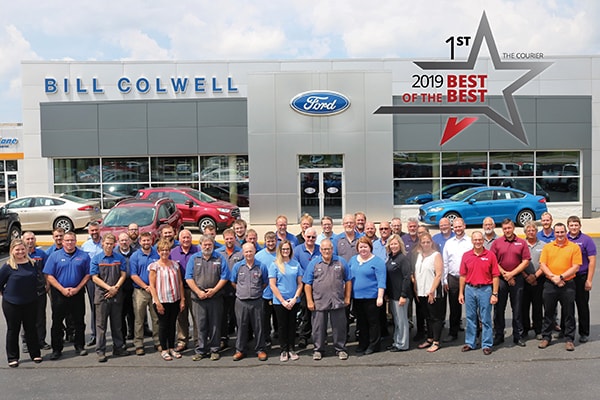 First Place: Auto Dealership, Auto Service, Automotive Salesperson - Ernie Doeden, Brake Service (Quick Lane), Oil Change Service (Quick Lane), Transmissions
Honorable Mention: Automotive Salesperson - Al Shepard and David Perez
Bill Colwell Ford, located in Hudson, wants to thank all their loyal customers for voting their dealership the Cedar Valley's No. 1 overall dealership to do business with year after year. And they're extremely privileged to be recognized as the Best of the Best in Auto Service, Transmission Repair, Oil Change Service (Quick Lane), Brake Service (Quick Lane), and Automotive Salesperson to Ernie Doeden. They also want to recognize David Perez and Al Shepard as honorable mentions in the Automotive Salesperson category.
Not only is the dealership being recognized as the Best of the Best in the Cedar Valley, but 2019 marks their 35th year in business. If you ask Bill what the success of Bill Colwell Ford can be attributed to, he would simply reply with two words, "our employees." The growth that this company has seen in the past 35 years is from the consistent hard work from their employees. Bill set a standard of how to take care of their customers and the employees have followed it, and because of that they have built a repeat loyal business.
"All of our employees know that our customers can buy a car or get their oil changed anywhere, which is why we have to go above and beyond when it comes to customer service," commented Bill Colwell.
Customers may have plenty of options when it comes to purchasing and servicing their vehicle, but they choose Bill Colwell Ford year after year. On average the Quick Lane Tire & Auto Center performs 50 oil changes a day, which is around 1,300 a month. And over the past 35 years Bill Colwell Ford has sold over 45,000 vehicles to customers spanning four generations.
When Bill Colwell opened the doors in 1984, he believed in treating his customers and his employees with respect and fairness. He had seen some of the pushy sales tactics that were being used by some dealerships in the 1970's and he knew that he wanted his business to be different. He wanted an ethical business where his employees were trained right and represented the manufacturer accurately.
Thirty-five years later the business has grown from six to 57 employees, with over 500 combined years of experience. When you break down the numbers there's currently 27 employees in the quick lane, service, and parts departments with over 250 combined years of experience. And in the sales department, there are 18 employees with over 200 years of combined experience. Those numbers are pretty incredible considering Bill was the only sales person when he opened in 1984.
In the past 35 years the corner of Highway 63 and Waterloo Road in Hudson has changed quite a bit. In 2012, the dealership began building a new facility, directly behind the previous dealership, which was built in 1960. In October of 2013, the journey came to an end and the Grand Re-Opening of Bill Colwell Ford was held. In July of 2016, Bill Colwell Ford expanded and opened the Cedar Valley Quick Lane Tire & Auto Center. And this summer they just completed a re-model of their service drive.
The physical location is constantly being improved, but so is their virtual location. Their website, www.billcolwellford.com, is constantly being updated with new inventory, photos, and blogs. They also recently launched their new "Personalize Your Payment" tool so customers can start the buying process from the comfort of their own home. And the dealership has a large social media presence on Facebook, Instagram, and YouTube; where they upload videos every week on different automotive topics.
"All of these changes have been made with the customer in mind. From day one our goal has been to make the buying process and ownership experience simple and stress-free. And as time goes on, we as a company have to change and keep improving to accommodate our customers," commented Bill Colwell.
Not only has the dealership evolved over the years, but their employees have as well. All departments are constantly being trained to stay up-to-date with the ever-changing auto industry. As vehicle technology progresses, it requires increased levels of knowledge and skills for automotive technicians and the sales staff. The service department currently has three Senior Master Technicians including Dan Vaughn, Ben Wilson, and Ross Anderson, who just recently moved into a Service Advisor role. Senior Master Technician is Ford Motor Company's highest certification that a technician can achieve and requires over 550 hours of Ford training.
"As a dealership we have never been more qualified than we now, and our customers recognize that. Between the number of technicians, including three Senior Master Technicians, the amount of training we do on a regular basis, and the equipment we have to fix cars. Our employees are confident when it comes to helping our customers," said Blake Colwell, General Manager at Bill Colwell Ford.
With 35 years of hard work it's no surprise that the dealership has won its fair share of awards. Bill Colwell Ford has won numerous customer satisfaction awards, including the prestigious President's Award from Ford Motor Company three times. The award recognizes dealers for excellence in providing outstanding customer service and satisfaction. They have also been voted the Best of the Best multiple times in the Cedar Valley and they were the only dealership in the state of Iowa to be named a Top 150 Workplace by the Des Moines Register in 2016.
Even with everything going on at Bill Colwell Ford they still are able to find time to give back to the community. Recently, Bill Colwell Ford held their 11th Annual Drive 4 UR School event for the Hudson Athletic Booster Club. As of 2018, Bill Colwell Ford has raised over $62,000 for the organization and that number keeps growing. The Booster Club is able to use that money for uniform and equipment replacement for the students. Bill Colwell Ford has also worked with other organizations including the Cedar Valley Hospice, the Northeast Iowa Food Bank, Cedar Bend Humane Society, House of Hope, and most recently the Friends of the Family.
"Being able to give back to those who have given us a chance to earn their business is what keeps our business going. The Cedar Valley is a great community and we're happy to give back and be a part of it," said Bill Colwell.
If you are in the market for a new, pre-owned, or Certified Pre-Owned vehicle feel free to give Bill Colwell Ford a call or visit their new website www.billcolwellford.com, which has thousands of pictures and information on their inventory. If you're not in the market for a new vehicle, they also have an outstanding Service Department and brand-new Quick Lane facility to help maintain your current vehicle. Of course, you can always stop by the dealership to get assistance with any automotive need, or just to say hi and enjoy a cup of coffee.
Click Here
to view the original article from the Waterloo Courier.