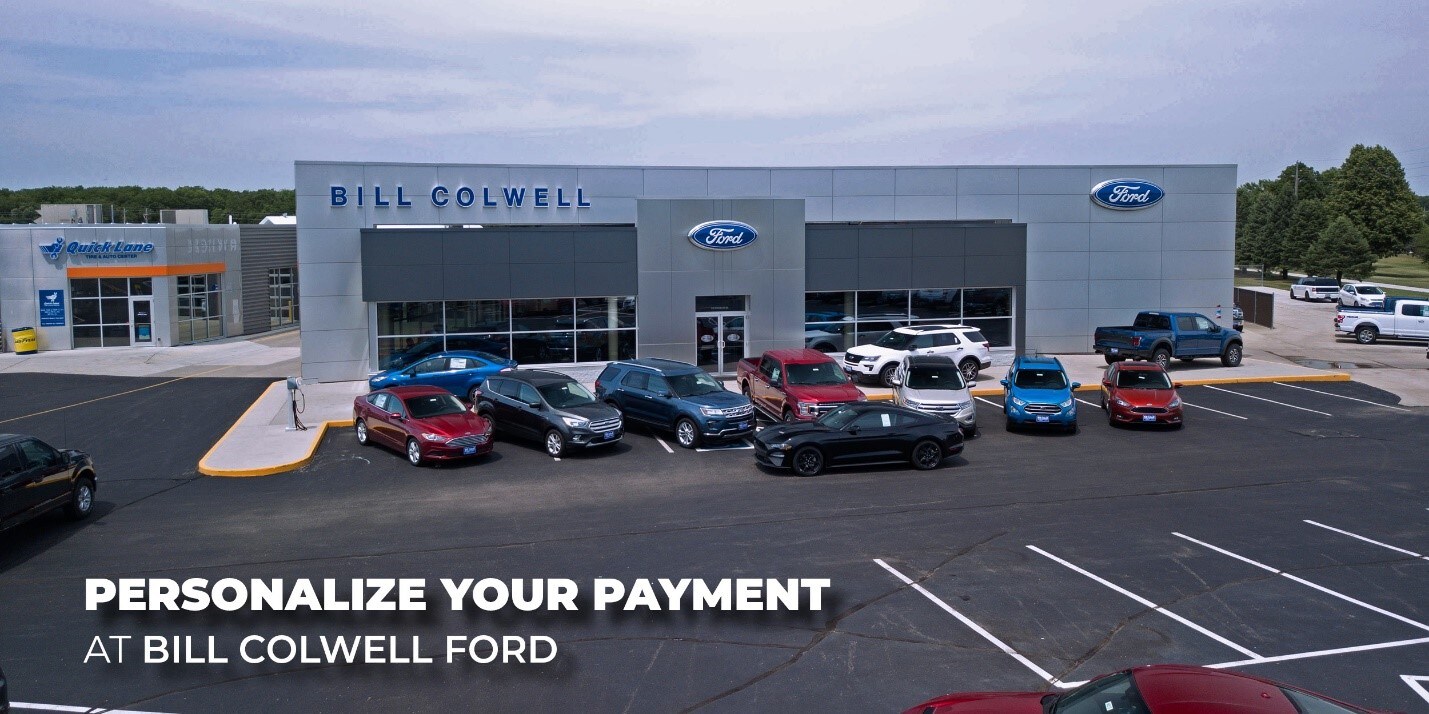 ---
---

 

At Bill Colwell Ford, our goal is to make the buying process and ownership experience simple and stress-free for each of our customers, which is why we created the Personalize Your Payment tool. With this tool you're able to save time and customize your purchase from the comfort of your own home. We give you everything you need to build your deal using actual available incentives and offers, estimate the value of your trade, and get pre-approved financing so you can find the car that meets your own financial goals.




All of this will maximize your time so that you can make an informed decision in a timely manner. We know that your time is valuable, which is why we encourage you to use our Personalize Your Payment tool to create a payment plan that's right for you online, saving you time and effort that would be spent filling out paperwork at the dealership. You can find the Personalize Your Payment experience available on nearly every new or used model page that you browse! It is located on the right-hand side of the model image under pricing information.




For mobile users, the tool is available if you scroll below the image listing & pricing. To start, you can personalize your payments for buying or leasing your dream vehicle. You'll be able to choose from and fill in a number of different factors to affect your payment options and decide on the loan or lease plan that fits your budget best. After that, you can utilize our Kelley Blue Book trade-in tool if you're planning to trade in your current vehicle. At Bill Colwell Ford we offer various plans to extend the life of your vehicle and ensure your safety - you can change them at any point before your purchase is finalized.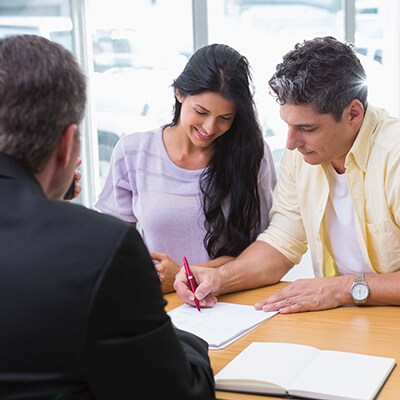 Once you've completed those steps, you'll have the opportunity to explore our vehicle protection plans. At Bill Colwell Ford we offer various plans to extend the life of your vehicle and ensure your safety - you can change them at any point before your purchase is finalized.
Next, you can apply for credit. If credit is not a concern at this time, or you prequalify, this option will get you started financing a purchase or lease! Once the application is complete, we will review your information and reach out to you.
And last, but not least, your have the option to reserve your vehicle for up to 3 days by putting down a deposit.
During this process we encourage you to "Send My Progress," so that we don't have to start from scratch when you get to the dealership.This will also email you a copy so you have it for your records. You may revisit your deal at any time from the "View Deal" button in that email.
Frequently Asked Questions:
Is this deal binding? Am I actually completing the purchase online?
Nope! You're building your own deal to meet your needs, but you're not tied to this purchase whatsoever. In order to complete the purchase, you'll need to come into the dealership.
How does the trade-in work?
Our system uses Kelly Blue Book Estimated Trade Value and will make an estimate of your trade value based on the condition that you choose:
Excellent (3%) - This vehicle looks new and is in excellent mechanical condition. It has never had paint or bodywork and has an interior and body free of wear and visible defects.
Very Good (23%) - This vehicle has minor wear or visible defects on the body and interior but is in excellent mechanical condition, requiring only minimal reconditioning.
Good (54%) - This vehicle is free of major mechanical problems but may need some reconditioning.
Fair (18%) - This vehicle has some mechanical or cosmetic defects and needs servicing, but is still in safe running condition and has a clean title history.
Our pre-owned managers will want to see your trade in person in order to make our official offer based on your vehicle condition.
How does Credit Score work?
Initially you will self-identify as:
Excellent (740-900)
Very Good (700-739)
Good (670-699)
Fair (630-669)
Poor (580-629)
As you move further down the process you will complete an actual finance application that will use your personal information to get an accurate credit score. This can all be done on our website through the Personalize Your Payment tool. This will save you time doing so at home so that you can get pre-approved before you come in to the dealership.
Is the Offer Price negotiable?
The Personalize Your Payment tool uses our internet price as the starting point. The internet price can be manipulated by you, but you will have to verify with a Sales Representative or Sales Manager whether or not that price is agreeable.
How do I qualify for incentives?
If there are manufacturer incentives available that apply to everyone that will be reflected as a special and automatically reducing the price.
Occasionally conditional offers are available (for example Conquest Cash that can sometimes be available if you own a competitive brand) and additional documentation may be required for you to claim those additional incentives.
What are the next steps once I find a car I love and a deal I'm comfortable with?
Schedule a time to come in and drive the car to make sure it's the one that fits your needs. If you "Send My Progress" then we will have all of the deal information that you do, so we can just jump right in.
You'll review your deal with our designated Sales Representative.
If you have a trade our pre-owned managers will take a look at your car and make you an official appraisal on your vehicle.
If you love driving the car, the deal you made was agreeable and your trade in offer was close to what you estimated, then you'll be able to move through the process quickly and take delivery of your car.
If any of the elements above need to be tweaked, our Sales Representative will be there to help with whatever you need.
To get started, find a vehicle that you love, and you can make your own deal with the Personalize Your Payment tool on the vehicle details page.
Hours
Monday

8:30 AM - 8:00 PM

Tuesday

8:30 AM - 6:00 PM

Wednesday

8:30 AM - 6:00 PM

Thursday

8:30 AM - 8:00 PM

Friday

8:30 AM - 6:00 PM

Saturday

8:30 AM - 5:00 PM

Sunday

Closed