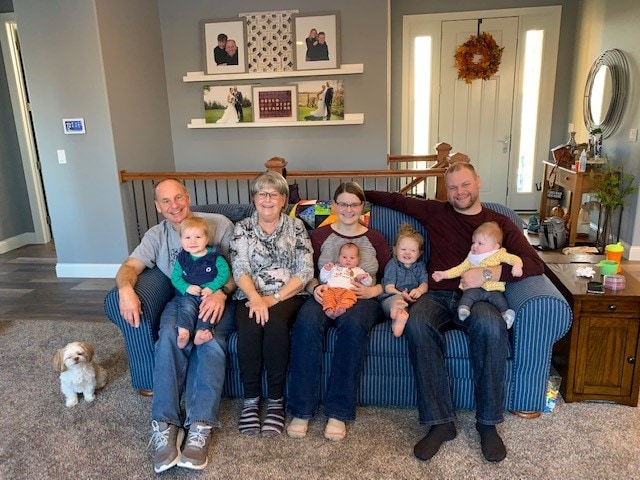 Pictured left to right: Bill, Nancy, their daughter Shelby, and son Blake, along with their four grandchildren.
Original article written by Soo Greiman of the Hudson Herald.
It's the same for Bill as it is for Nancy Colwell: when they sense the time is right, they take action. That helps explain how the two got married a short six months after first meeting. Later, when they learned a car dealership in Hudson was for sale, they said yes. That was 1984. During the following year, Bill commuted 7 days a week to Hudson to work at the dealership, from their home in Denver. That is, until Nancy said it was time to move.
"Nancy put her foot down," remembers Bill, thinking back to when they had a baby who was asleep when he would leave in the morning and was tucked in bed for the night as he returned home at night. "Nancy said if I ever wanted to see our son awake we needed to move to Hudson."
When the family moved here in 1985, toddler Blake soon found how fun it was to have nearby neighbor boys Ben and Luke Steele always ready to play. Both Bill and Nancy never regretted relocating here or purchasing the Ford dealership from the father-son duo Doug and Dave, of Keith Motor Company.
As the family grew with the addition of daughter, Shelby, so too did the Colwell Ford dealership. Expanding steadily over 35 years from six employees to today's staff of 60. Blake, who now helps manage the dealership, is a Hudson High Class of 2000 graduate. After marrying Erin (whose father is local coach/teacher Keith Harms), they had two daughters, Madi and Peyton. Just recently, Shelby, Hudson High Class of 2005, and husband Luke McNeese, with their two sons Micah and Josiah, moved to Kingsport, Tennessee, which is closer to his Greeneville hometown. At Kingsport, Luke is an area director with Boys Scouts of America.
Married for 43 years, Nancy, a native of Creston, and Bill of Cedar Falls, have confronted more than their share of health challenges including Nancy's battle with metastatic Melanoma which lasted over 10 years. "Years of being out in the sun took a toll. For some time, I was at Stage 4 until an experimental drug was made available through a trial I participated in. I took it and it succeeded. Unfortunately, when I stopped taking the effective, but experimental drug, the cancer came back for another round. Not wanting to focus on the dark days she endured she adds, "Today I regularly take that drug, Keytruda, and I'm cancer-free. I can't stress enough to anyone who is going to be outside, wear a hat and put on sunscreen. Don't ignore your health by thinking cancer can't happen to you because it can."
"We go for scans every 12 weeks and so far, for the last year she has been cancer free," nods Bill with a huge smile. Last year nerve issues that developed in Nancy's back forced her to use a wheelchair but now, post-surgery, she is recovered, in spite of pain that persists.
Besides the car dealership, the couple has been very active in the community. Bill for eight years was a City Council member, served on the Mayor's Task Force, is currently a member on the Board of Cedar Valley Hospice, and Ford Dealer Advertising board of directors. Nancy has volunteered for years with Hudson PTA, as well as being a committee member when the Weight Room project was underway and many other school projects. The support they have given to efforts like Drive4URSchool, Hudson's Pirate Cove Splash Pad, HEF scholarships, and the school's new track are huge. Hearing the list of projects they have helped with read aloud Bill replied, "You've got to give back to your community who gives so much. You've got to."
Both are anticipating serving as parade Grand Marshals for Hudson Days later this week and are already contemplating the other part of the job involving judging the Pie Baking Contest. During the Friday afternoon contest they will sample all of the 20-30 pies entered. Sounds intimidating, grins Colwell, but he thinks he is up for it.
Already the Car Show Committee has informed him that this year's event is shaping up nicely. "Shade tree-lined Jefferson Street provides the perfect place for the show, especially if it's a hot day. Actually the show is a conduit between the park events and things happening downtown."
"It's been amazing to see how Hudson Days has grown, and how that it celebrates so many things of the community," adds Nancy. Thinking momentarily she adds, "I know I'll be nervous riding in the parade but it'll be good to see everyone. Oh, and eating pie at the Pie Contest sounds like a wonderful job!"