Our online scheduling tool helps you get the vehicle service you need when you need it, whenever you have time to set up an appointment.
Here's how to do it. (Or watch this tutorial)
1. Go to
https://www.billcolwellford.com/service/schedule-service.htm
2. Enter your phone number, email, or VIN (vehicle identification number) into the top field to find your specific vehicle, then tap
Search
; OR tap
I am a new customer
to enter new vehicle information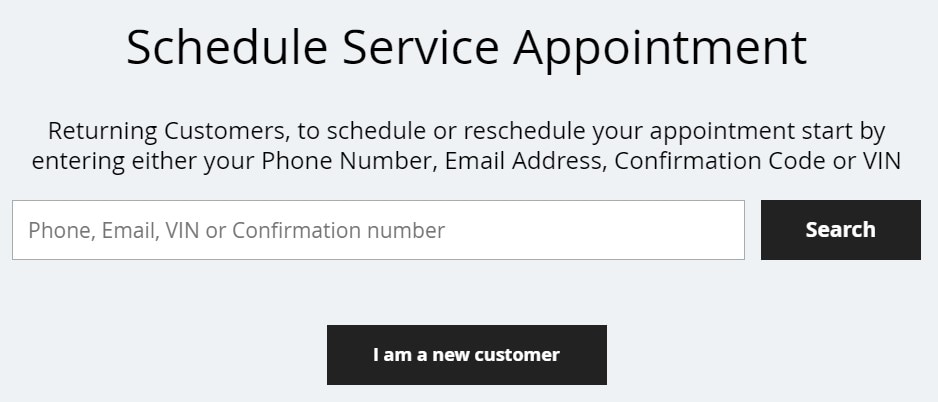 To enter a new vehicle into the system, you can either enter your VIN or as much info about the make, model, year, transmission, engine, and drive train as you know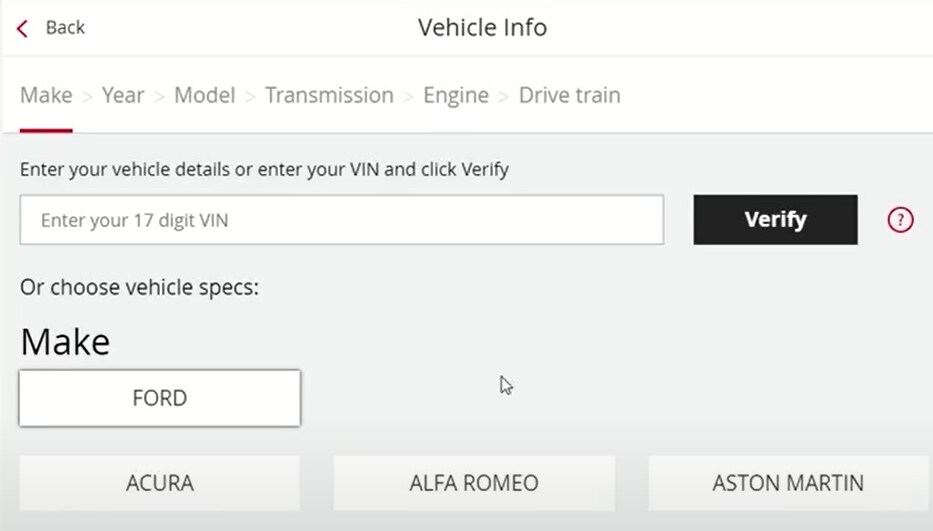 3. When you see your vehicle that needs service, tap
Add vehicle

4. Confirm your identity with the second verification prompt (ex: your phone number), then tap
Verify

5. Enter an approximate odometer reading (current mileage), then tap
Continue

6. Go through the top service tabs to select all the service you would like. This includes:
Customer concerns (where you can request diagnosis of specific issues or select current specials)
Factory-recommended scheduled maintenance (where you can select recommended service based on your vehicle and current mileage)
Dealer recommended services (where you can select small routine maintenance items that may not be on the list of factory-recommended services)
Most of these services include an estimated cost so you know about how much to expect.
If you can't find a specific button that matches what you need, use the Search concerns field at the top or feel free to enter it in the comment section at the bottom. Once you add a service, you can add additional notes underneath it as well.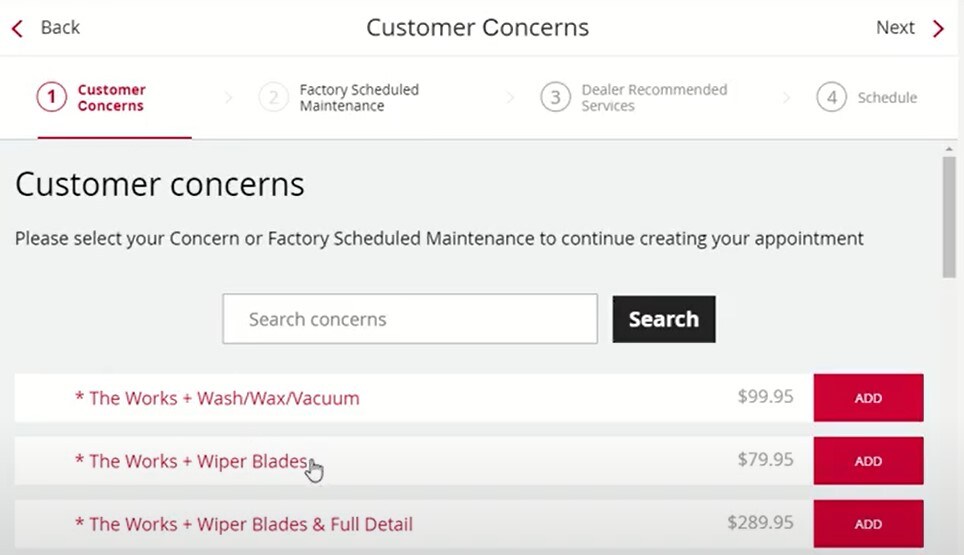 7. When you have selected all the services you want in each tab, tap
Next
at the top
8. Under the Schedule tab:
Select what you will be doing while your vehicle is being worked on

Waiter (you will be waiting in our customer waiting area)
Own ride (you have your own planned transportation)
Need loaner (you need to borrow one of our loaner vehicles—only available for long, difficult repairs)
Shuttle ride (you need a ride somewhere within a 20-mile radius)
Pick up and Delivery (you would like us to pick up your vehicle from your home and drop it off when we're done—only available within a 20-mile radius if scheduled at least 24 hours in advance)

Select the service advisor you prefer, or choose Any Service Advisor
Select an available date and time for your appointment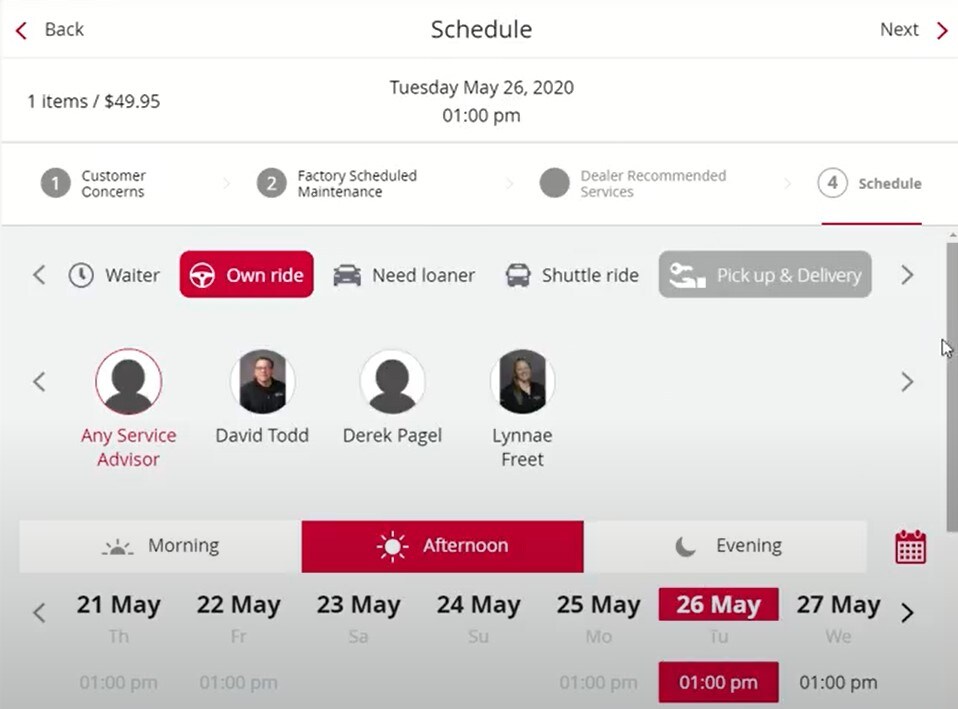 9. Tap
Next
at the top to continue
10. Look over the appointment summary for accuracy. If you would like to make changes, tap the edit (pink pencil icon), or
Back
at the top. Otherwise tap
Confirm appointment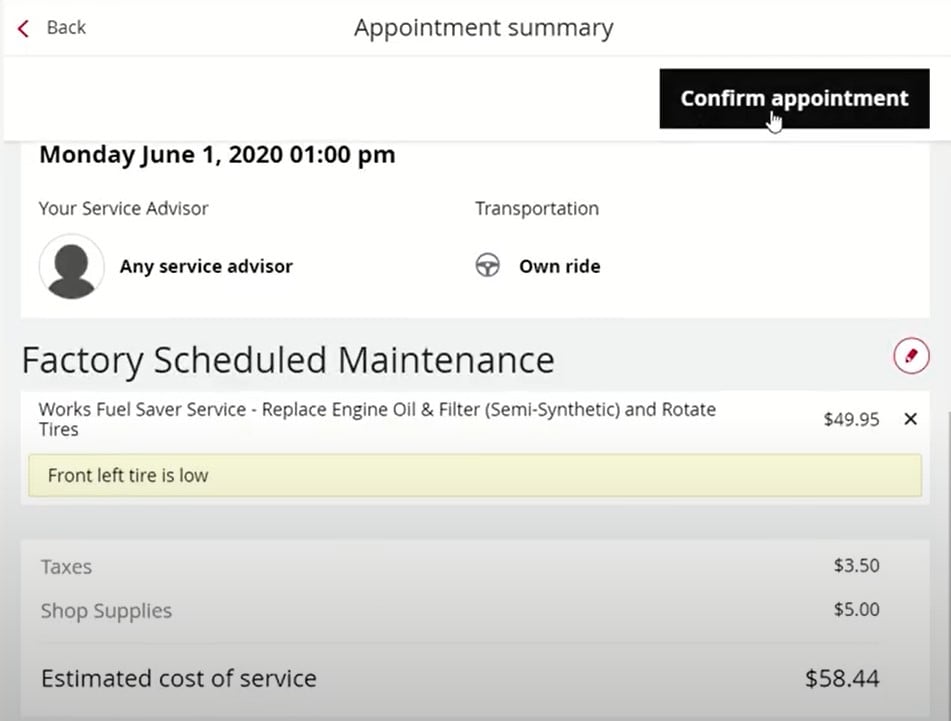 11. Your appointment is scheduled! You should receive a confirmation email. You can add the appointment to your digital calendar with the
Sync to calendar
button. Otherwise, you're all done!