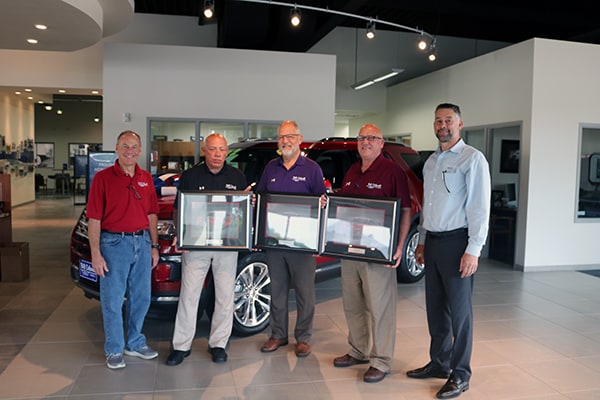 Bill Colwell Ford is proud to recognize three employees that have been honored with the 2018 Employee Excellence Award from Ford Motor Company. Congratulations to Al Shepard, Mike Stark, and Ernie Doeden for scoring at the top of their fields in customer satisfaction, sales, and training! All recipients were level 3, which means that they were in the top 10% among peers in number of customers and customer satisfaction. All three recipients have also won the award multiple years in a row; Al Shepard, 9 years; Mike Stark, 9 years; and Ernie Doeden, 8 years.
The e2 Employee Excellence Award is the highest honor from Ford Motor Company in recognition to the Ford & Lincoln front-line dealership employees. Recipients of this award represent the best-of-the-best from across the nation in the Ford and Lincoln Dealer Network and have scored the highest in the area of Sales, Customer Satisfaction and Training.
"It is exciting that Ford has honored and recognized these three individual employees for excellence, but I am not surprised. Al, Mike, and Ernie are great people that work hard and care about their customers and their co-workers. We are proud of their performance and the customer experience they provide every day," commented Bill Colwell, Owner of Bill Colwell Ford.
Pictured from left to right: Bill Colwell, Al Shepard, Mike Stark, Ernie Doeden, and Jeff Baker.