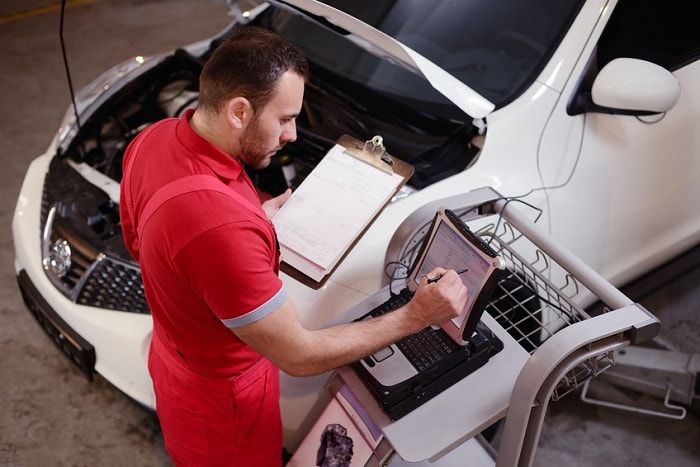 Here at Bill Colwell Ford, we don't just help you find a new Ford truck or SUV. We'll also help you take great care of your vehicle for a long time to come. If you want your car to last, routine visits to our Quick Lane Tire & Auto Center located at Bill Colwell Ford Ford service center are needed. Our trained Ford Service Quick Lane technicians can handle all of your automotive needs, including multi-point inspections.
It's probably no surprise to you that a wide variety of components are needed to keep your car running smoothly. Sometimes when your car is giving you a problem it can be hard to tell which part is having issues right away. Fortunately, a multi-point inspection can help you ensure that every part of your car is functioning as it should.
A multi-point inspection can generally be separated into four parts. There's an underhood inspection, undercarriage, tires, and brakes. Each focuses on a different area of your vehicle and all of them are important.
When we evaluate vehicle performance, we'll examine components like the brakes and transmission. We'll take a look at the engine as well, along with your headlights and steering. Basically, this part of the multi-point inspection ensures that your vehicle is operating at peak performance and keeping you safer.
The underhood inspection includes a look at crucial parts like your battery, which helps your car start, and your fluid levels. Then in the under car inspection, we'll take a look at drive axles, engine seals, and other parts you may not think about too often. When we're all done, you can be sure that every part of your car is functioning well.
So whether you're shopping for a new car or just trying to take great care of your current vehicle, visit our Ford dealership serving Cedar Falls, IA. Our expert mechanics and Ford dealers are ready to help you with any of your automotive needs. We look forward to serving you!