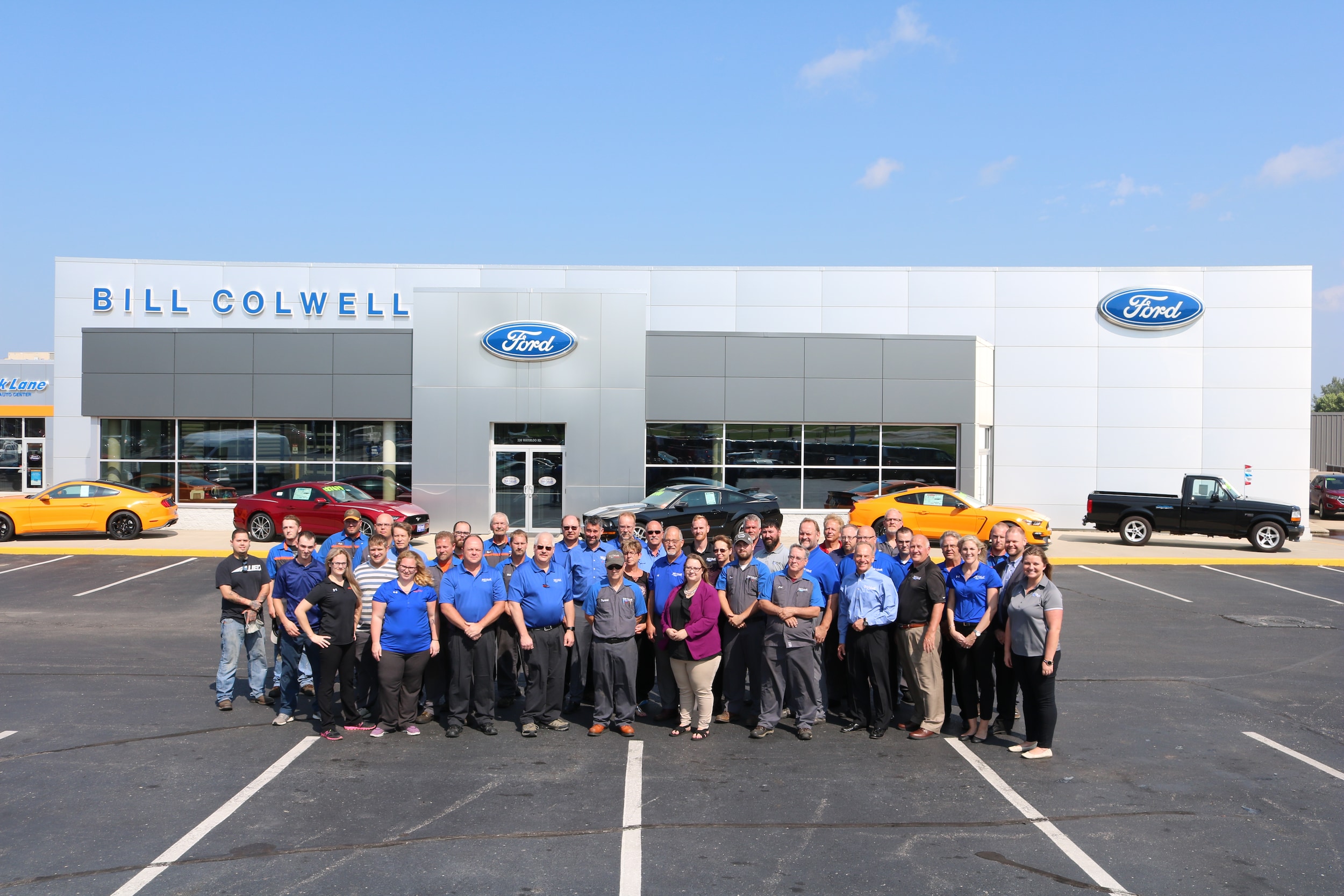 FIRST PLACE: AUTO DEALERSHIP
HONORABLE MENTION: AUTOMOTIVE SERVICE, OIL CHANGE SERVICE, BRAKE SERVICE, & AUTOMOTIVE SALESPERSON - AL SHEPARD
Bill Colwell Ford, located in Hudson, wants to thank all their loyal customers for voting their dealership the Cedar Valley's No. 1 overall dealership to do business with year after year. And they're extremely privileged to be recognized as honorable mentions in Auto Service, Oil Change Service, Brake Service, and Automotive Salesperson to Al Shepard. Their goal is to make sure that they make the buying process and ownership experience simple, stress-free, and non-confrontational for each of their customers; and the reward is their customer's loyalty.

When Bill Colwell opened the doors in 1984 he believed in treating his customers and his employees with respect and fairness. He had seen some of the pushy sales tactics that were being used by some dealerships in the 1970's and he knew that he wanted his business to be different. He wanted an ethical business where his employees were trained right and represented the manufacturer accurately.

When Bill bought the franchise, he was the only sales person on staff. He sold 27 cars that first month, selling all day and then locking up at close and finishing all the paperwork at night and some Sundays. After the first month, he realized he couldn't handle it all on his own and hired two sales people. Nowadays Bill Colwell Ford has 55 full-time employees; 16 employees in the sales department and twice that amount in the fixed operations departments.

If you ask Bill what the success of Bill Colwell Ford can be attributed to, he would simply reply with two words, "our employees." The growth that this company has seen in the past 34 years is from the consistent hard work from their employees. Bill set a standard of how to take care of their customers and the employees have followed it, and because of that they have built a repeat loyal business.

He may have started his business at the age of 28, but his passion for cars and the automotive industry started at a very young age. Bill's father, Bill Colwell Sr., opened his first used car store in Mt. Morris, IL in 1960. Eventually the family moved to the Cedar Valley where Bill Colwell Sr. and Bill Colwell Jr. established Bill Colwell's Auto Mart in Waterloo in 1975.

In 1984, Bill Colwell bought the Ford franchise from Keith Motor Company and opened Bill Colwell Ford. In the past 34 years the corner of Highway 63 and Waterloo Road in Hudson has changed quite a bit. In 2012, the dealership began building a new facility, directly behind the previous dealership, which was built in 1960. In October of 2013, the journey came to an end and the Grand Re-Opening of Bill Colwell Ford was held. (Click here to learn more about our history)

More recently, Bill Colwell Ford expanded and opened the Cedar Valley Quick Lane Tire & Auto Center in July of 2016. The Quick Lane Tire & Auto Center provides a full range of services including oil changes and essential maintenance, tires, alignments, brakes and more for all makes and models, while the Service Department at Bill Colwell Ford continues to handle major repairs, diagnostics and warranty work.
"The fixed operations department, which includes Service, Parts, and Quick Lane, is the backbone of our dealership. In those three departments we have over 345 years of combined experience, which is unheard of in our industry," said Bill Colwell.
In an age where people switch jobs or careers every couple years now, Bill Colwell Ford has three employees who have been there the entire 34 years they've been in business. These employees include, Kurt Kienitz, Assistant Service Manager; Joel Peterson, Automotive Technician; and Kim Johnson, Automotive Technician. And there are countless other employees who have been there 20+ years. (Click here to meet all our employees)
"And our Sales department has over 175 years of combined experience. In an industry where turnover is notorious, we are very fortunate to have been able to retain our employees all these years," commented Bill.
With 34 years of hard work it's no surprise that the dealership has won its fair share of awards. Bill Colwell Ford has won numerous customer satisfaction awards, including the prestigious President's Award from Ford Motor Company three times. The award recognizes dealers for excellence in providing outstanding customer service and satisfaction. They have also been voted the Best of the Best multiple times in the Cedar Valley and they were the only dealership in the state of Iowa to be named a Top 150 Workplace by the Des Moines Register in 2016.
Along with their employees' hard work, another reason for their success over the years is the continuous education their employees receive. All departments are constantly being trained to stay up-to-date with the ever-changing auto industry. As vehicle technology progresses, it requires increased levels of knowledge and skills for automotive technicians and the sales staff.

With technology in our vehicles constantly changing, it's no surprise that the technology customers are using is changing as well. With 86% of consumers doing research online before ever stepping foot inside of a dealership, Bill Colwell Ford has made it a priority to not only be a retail source, but also an educational source.

"We recently went through a website redesign to make the customer experience easier. We are also constantly using our social media platforms to showcase products, specials, and educate our customers. Every week we're posting videos to Facebook, YouTube and more. Sometimes they're simple like how to put the top down on your Mustang convertible, or more complicated videos like explaining how active park assist technology works," said Blake Colwell, General Manager at Bill Colwell Ford.

Even with everything going on at Bill Colwell Ford they still are able to find time to give back to the community. Recently, Bill Colwell Ford held their 10th Annual Drive 4 UR School event for the Hudson Athletic Booster Club. As of 2017, Bill Colwell Ford has raised over $56,000 for the organization and that number keeps growing. The Booster Club is able to use that money for uniform and equipment replacement for the students. Bill Colwell Ford has also worked with other organizations including the Cedar Valley Hospice, March of Dimes, Give 2 the Troops, Beyond Pink TEAM, the Northeast Iowa Food Bank, Cedar Bend Humane Society, and most recently the House of Hope. (Click here to learn more about our community involvement)

"Being able to give back to those who have given us a chance to earn their business is what keeps our business going. The Cedar Valley is a great community and we're happy to give back and be a part of it," said Bill Colwell.

If you are in the market for a new, pre-owned, or Certified Pre-Owned vehicle feel free to give Bill Colwell Ford a call or visit their new website www.billcolwellford.com, which has thousands of pictures and information on their inventory. If you're not in the market for a new vehicle, they also have an outstanding Service Department and brand-new Quick Lane facility to help maintain your current vehicle. Of course, you can always stop by the dealership to get assistance with any automotive need, or just to say hi and enjoy a cup of coffee.