In celebration of the Ford F-Series being America's best-selling truck for 40 years, during April, Bill Colwell Ford will be hosting Fill a 50 and collecting items for the Cedar Bend Humane Society. The Cedar Bend Humane Society is non-profit organization whose mission is P.E.T.S. (place - educate - teach - shelter) in the Northeast Iowa area. Bill Colwell Ford is asking the Cedar Valley community to bring in animal-related items to help them fill the bed of an F-150, or Fill a 50. For each item you bring in, you will be entered in a drawing for a chance to win a free auto detail and The Works vehicle checkup package at Bill Colwell Ford. The winner will be announced May 2nd. Our goal is to collect 300 items.  
**We're also accepting monetary donations. Any money donated will be used to buy items for the event or be given directly to the Cedar Bend Humane Society. 
U.S. Animal Shelters: 
Approximately 6.5 million companion animals enter into animal shelters every year.
Approximately 3.2 million shelter animals are adopted each year.
About 710,000 animals who enter shelters as strays are returned to their owners. 
Below are some of the items needed at the Cedar Bend Humane Society:
| | | |
| --- | --- | --- |
| Animals               | Workers  | General |
| Cat/kitty litter | Scrubbing brushes | Hand soap |
| Blankets | Dish washing detergent | Fabric softener |
| Rawhide bones | Brooms | Toilet paper |
| Toys | Tape | Paper towels |
| Heating pads | Windex | Latex and rubber gloves |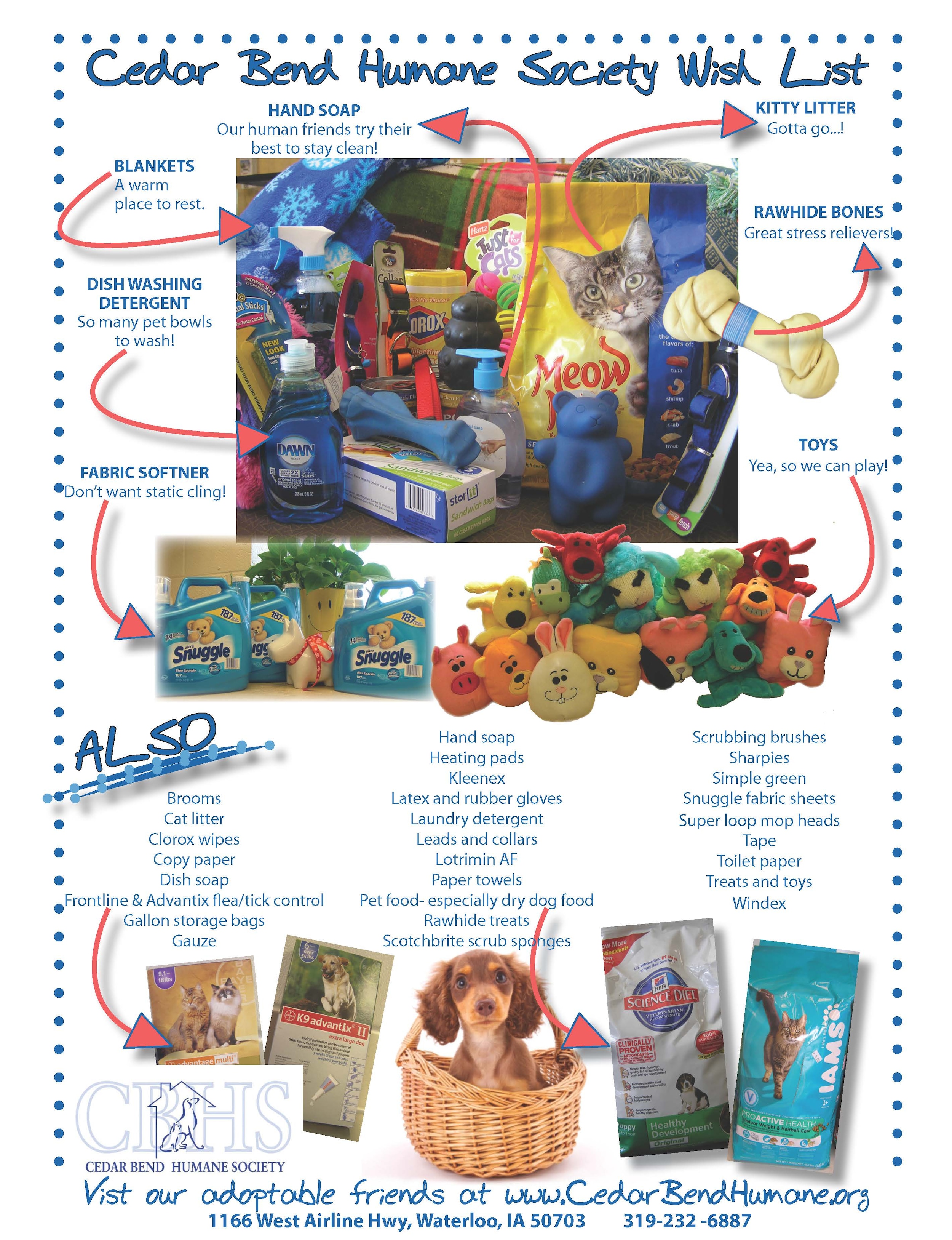 For a printable version, click on the PDF below:
For more information about the Cedar Bend Humane Society, please visit their website at 
www.cedarbendhumane.org
. The Cedar Bend Humane Society opened in 1910. The location at 1166 West Airline Highway, Waterloo, opened in 1968. In 2009, a new adoption center was built. The adoption center was made possible through community support and donations.
The Cedar Bend Humane Society is a non-profit organization that exists because of the support of people who donate money, time, and other gifts. Every dollar and donation benefits the animals.